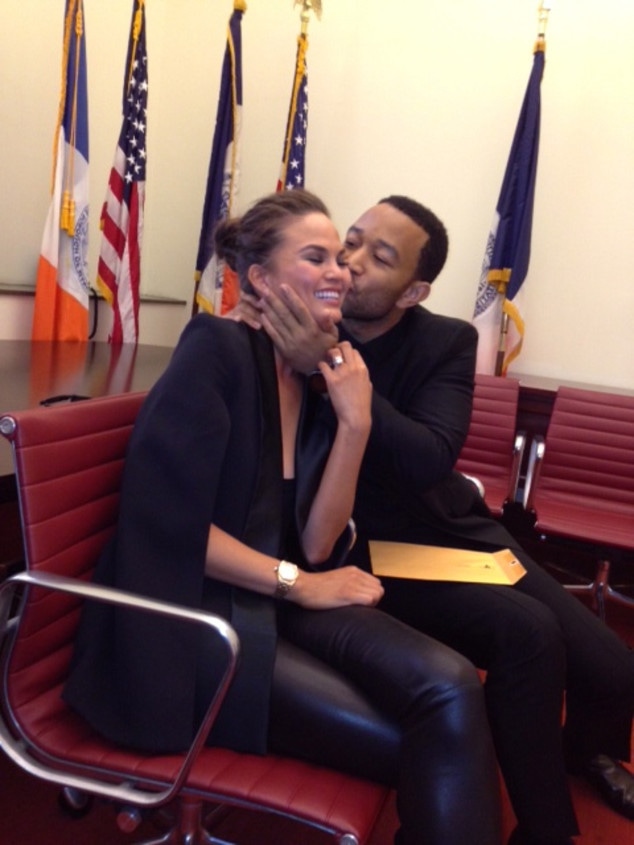 Courtesy: Chrissy Teigen
Surprise!
E! News has exclusively learned that Chrissy Teigen and John Legend were actually already married prior to their lavish wedding ceremony in Lake Como, Italy.
It turns out that the supermodel bride and her singing superstar beau decided to take their nuptials to the courthouse first, and went off to legally tie the knot after attending the Vera Wang show during New York Fashion Week, one day before jetting to Italy to share the special moment in front of all of their friends and family.
During the courthouse ceremony, both Teigen and Legend matched in all-black ensembles.
"We actually got married after going to a couple Fashion Week shows at Vera Wang, ironically who actually did my dress, but we got married at the courthouse right after," Teigen told E! News. "We are dumb and didn't realize that our Italian wedding would not be recognized unless we had a real ceremony in New York City. So Irina Shayk was our witness—the most beautiful woman on earth!"
E! News learned that Legend's pal and the producer of his new album Love in the Future Kanye West attended the nuptials. Stevie Wonder was also there and even performed "Ribbons in the Sky" for the couple and crowd, before Legend got up himself and sang his latest hit "All I Am" to Teigen.
Just before the wedding, Teigen admitted to E! News that she had three dresses for the wedding and ceremony! "Every time I went in [to Vera Wang] for a fitting, I couldn't stop getting one," Teigen dished. "It's just too pretty."
She first wore an ivory strapless open back, V-neck ball gown with lifted tulle skirt and tiered flange, with hand-cut petal embroidered detail for the actual ceremony, before changing into a mermaid ivory gown that had a micro-pleated bodice and sheared organza full skirt for the reception, and then later switched up her look again for the after party, donning a crimson strapless mermaid gown.
For more on Chrissy Teigen and John Legend's secret courthouse ceremony, tune in to E! News tonight at 7 p.m. & 11:30 p.m.