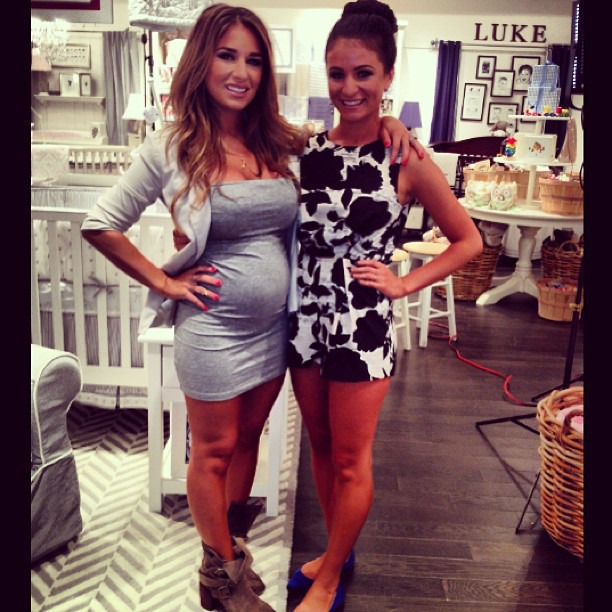 Jessie James, the beautiful country pop singer and her NFL wide receiver husband, Eric Decker, are thrilled about becoming parents, but Jessie's pregnancy has been exhausting so far.
The Eric & Jessie: Game On star is four months pregnant and tweeted about her tough morning sickness a couple of weeks ago. It doesn't seem to be getting any better.
"I'll be honest, it's still pretty rough. I just didn't think it would be this intense," Jessie told E! News exclusively. "Still not that blissful pregnancy, and the only thing that's keeping me happy is that I have a little baby in there."
Eric's been able to help by getting Gatorade and crackers but there's not much more he can do.
"He offered to hold my hair back while I puked once," Jessie said while laughing. "Gatorade, soup, and crackers or just leave me alone, and I'm kind of the leave me alone sick person."
But don't think the morning sickness and rough pregnancy is making them any less excited about the baby, it's making them even more fired up!
"I think we're just so impatient that we want to hold the baby now. We want it now," Jessie revealed. "It feels like torture waiting for the baby to come out. Eric's been wanting to have babies for a really long time now."
And to add to the excitement, they just found out if it's a boy or a girl! But, she's not revealing the sex just quite yet...
"I've told friends and family. We're so excited about it," Jessie gushed. "I want to wait until it's 1 million percent true but they're 99.9% sure what it is. I just want to make sure before I say anything."
The wait continues!
Being the wife of a Denver Broncos player means you've got a whole team of supportive players and their wives.
"Two other wives, who are actually my closest friends on the team, are pregnant as well. And we're all like a week or two a part," Jessie excitedly explained. "It's been really great to have each other to lean on."
The country star is currently in L.A. recording her new single and she reveals the song's actually about Eric!
"It's the song I wrote for Eric for the wedding," Jessie explained. "It'll be out next month for sure."
Ah! We can't wait and hope she gets feeling better soon!
Tune-in to E! this Sunday at 10/9c for an all-NEW Eric & Jessie: Game On!