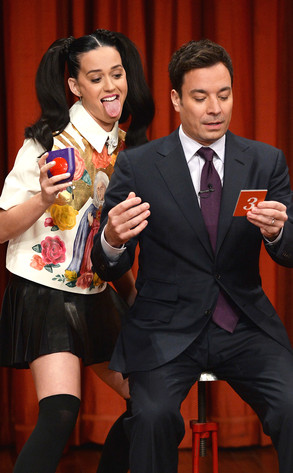 Theo Wargo/Getty Images
Katy Perry is every man's fantasy, as she proved during her Thursday, Oct. 10, appearance on Late Night With Jimmy Fallon. The "Roar" singer was there to promote her new album, Prism, as well as her upcoming Saturday Night Live appearance. What really got people talking, however, was her outfit.
With her hair in pigtails, the 28-year-old pop star looked like a naughty Catholic school girl in a House of Holland top featuring the image of the Virgin Mary. Perry—whose parents are evangelical Christian pastors—completed her look with a leather Belstaff skirt and Wolford stockings.
Perry arrived on set as her boyfriend John Mayer's 2002 hit "Your Body Is a Wonderland" played. "You guys are so funny," she told host Jimmy Fallon. All kidding aside, Perry said, "I'm so glad I could finally be on your show!"