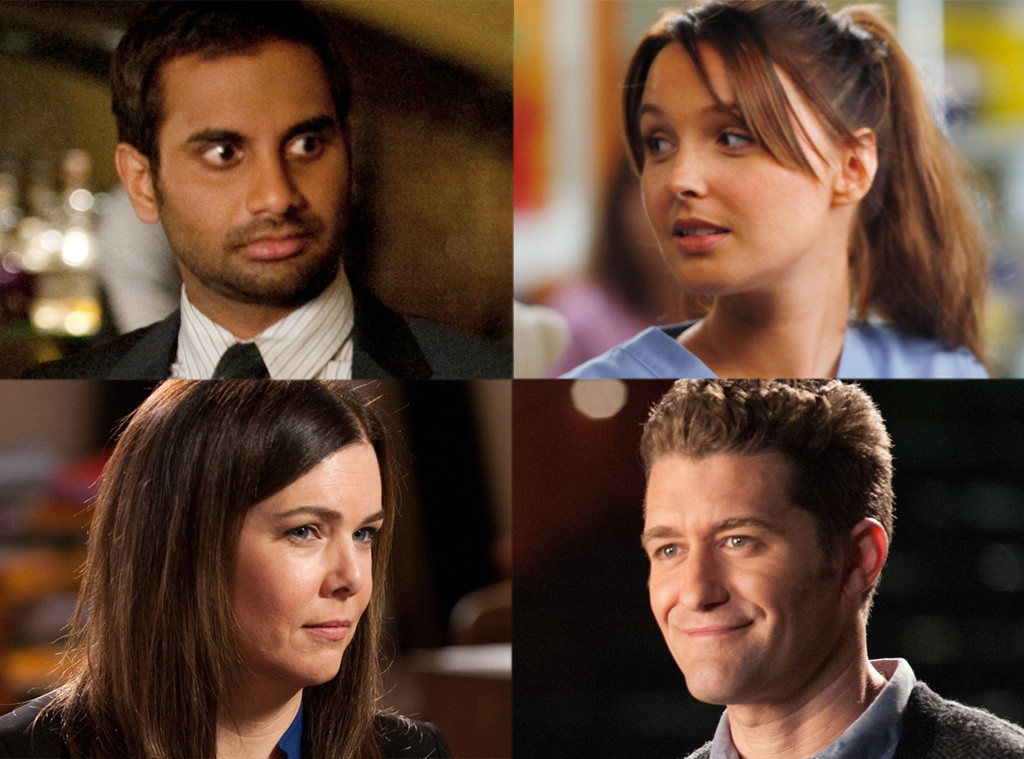 NBC; ABC; Fox
It's Friday, Friday, gotta get scoop on Friday!
In today's Spoiler Chat, we're serving up a fresh batch of spoilers on some of TV's hottest shows. Up first? Details on one Glee fan favorite's final season with the show and a Grey's Anatomy doc getting her groove back. Plus, we've got the details on Orphan Black star Tatiana Maslany's guest appearance on Parks and Rec, a polarizing Parenthood pair and witchin' good teases for American Horror Story: Coven's next ep. Oh, and scoop on Once Upon a Time in Wonderland, Nurse Jackie and more!
Gavin: S.H.I.E.L.D. me, people!
Loving Skye and Agent Ward together? Then you'll like the final scene of the next episode, which may or may not feature Skye putting a piece of S.H.I.E.L.D. technology to good use to check out Ward's assets.
Ashlee: Grey's spoilers, whatever you got.
Justin Chambers told us that fans can expect some really great interaction between him and Jo the intern. "I'm enjoying Camilla Luddington. She's a great actress. We have some fun stuff coming up. I think people are gonna be really excited about what we're doing," he tells us. "These new interns that are coming in have added such great flavor." Meanwhile, Chandra Wilson promises that Bailey will be working on getting her mojo back. "She's trying to. You know, because as a surgeon, you really do have to go by your gut a lot of times," she says. "Because it's not something you can see, it's not showing up on a scan, you know, the visual field isn't what it needs to be, but your gut is telling you something else. And you know, it was about time for Bailey to depend on her gut."
Connor: With Jayma Mays now on The Millers, is she done with Glee?
After this season, yes. She confirmed her exit with us while we were visiting the set of The Millers. "This will be my last season on Glee. I'm doing a couple episodes and then we're finishing it up," she reveals. "I don't know what they're going to go with the character. Ryan Murphy is the mastermind over there and I'm sure he has amazing ideas. But they haven't told me yet." How do you think they'll write off Emma?
Skylar: My Parks and Rec super fans…gimme scoop!
Next week's episode, titled "Gin It Up!", is nothing short of amazing because the one and only Tatiana Maslany, aka the Orphan Black badass, finally appears for her guest role! As we've already told you, she will play a love interest for Tom, and because he's, well, Tom, he gives himself a British accent. He's obviously a Sarah fan. Elsewhere in the episode, the committee to recall Leslie is handing out Leslie dolls that say "Recall Knope" when you squeeze its hand. Oh, and it farts. For an extended period of time. Stay classy, Pawnee.
Josh: Please tell me Parenthood won't force Sarah and Hank together. I'm not a fan.
Even though Ray Romano will be around a lot this season, there will be someone new in Sarah's life who will catch her eye, if you know what we mean. And we think you do. You do, right? We mean she'll like him. And he lives in close proximity to her, so chances are high those two crazy kids will be seeing a lot of each other for some good old-fashioned flirting. Hank who?
Kristy: I am seriously loving AHS: Coven already! I know you guys already gave us a lot of spoilers, but do you have any more scoop?
How about three quick teases? Fiona hilariously taunts Delphine LaLaurie with a fried chicken leg, there are two deaths by alligator, and we get a flashback to 2012.
Yaz: My lovely ladies who always give the best Nurse Jackie scoop, I need more!
We prefer to be called stunning instead of lovely, but we'll let it slide this time. This season on Nurse Jackie, someone is getting engaged! No, we're not telling you who it is, but we can you tell that this person has a close connection with Jackie. OK, that's pretty much everyone on the show, so how about we eliminate one person? It's not Thor, although we do wish that big lug finds love soon!
Regina M: I absolutely loved the premiere of Once Upon a Time in Wonderland last night! Could we possibly see any Storybrooke-Wonderland crossovers this season?
We adore this series and we were wondering the same thing! To get to the bottom of is, we caught up with Wonderland's executive producer Zack Estrin and asked him if would could ever expect a spellbinding switcheroo. "Right now in the beginning we're going to make sure that each show lives on its own," Estrin explains. "Wonderland is its own show, but down the road, who knows? You may see a familiar face or two making their way over to Wonderland. Certainly there are some who started in Wonderland who could always return." Our money is definitely on Cora—aka The Queen of Hearts!