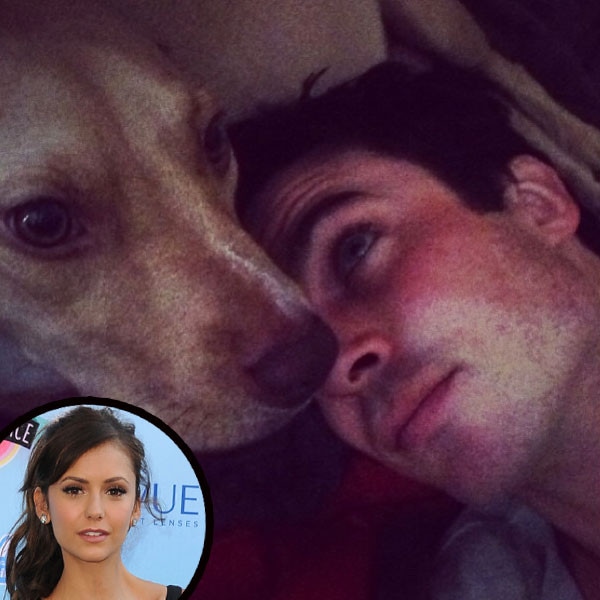 Instagram
Romantic relationships come and go, but puppy love is forever.
So even though Ian Somerhalder's ex Nina Dobrev is now dating Derek Hough, the Vampire Diaries stars put up a united front when the actor's dog Nietzche went into labor!
Ian, 34, rescued Nietzche in early August after finding her in traffic near the Vampire Diaries' stages. Except, when he adopted this green-eyed girl, he was unaware that she was pregnant.
But, being the upstanding vampire gentleman he is, Ian was completely supportive when he learned in early October his little lady had eight puppies onboard. And when Ms. Nietzche went into labor on Tuesday, Oct. 8, he was right by her side.
Ian posted an Instagram photo of the mom-to-be, writing, "Our little Nietzsche girl is about to drop a ton of love into the world! please send super-positive energy to this very brave and very scared little girl."
He then posted a picture of himself cuddling up to his pup. "Live from the whelping box In Atlanta!Panting,pushing, contractions –Wow," he wrote. "Make no mistake about it-Ladies rule...Women of every species blow my mind...Incredible what mamas go through!Love to you mamas-all over the world.Jeez."
But Nietzche was a champion, and Nina—who had been on hand for support throughout Nietzsche's labor—posted a WhoSay photo of the proud, smiling new mom and her newborn puppies! "Birthing little Nietzsches ...Such a beautiful + equally terrifying thing to witness," she wrote, "The miracle of life :) #Wow."
Jeez, wow, whoa indeed—that's not all! Ian is now officially a grandpa (in the canine world) and he used Nietzche's unplanned pregnancy as an educational opportunity. "THIS ignites even more [the Ian Somerhalder Foundation's] vision and the absolute necessity to finish research and distribute SAFE species-specific oral sterilization drugs for dogs and cats," he wrote. "Lets put our heads together and end OVER POPULATION OF THESE INCREDIBLE ANIMALS! Thank you!"
No, no, thank you Mr. Somerhalder. And everyone else, yes, please help control the pet population. Have your pets spayed or neutered!