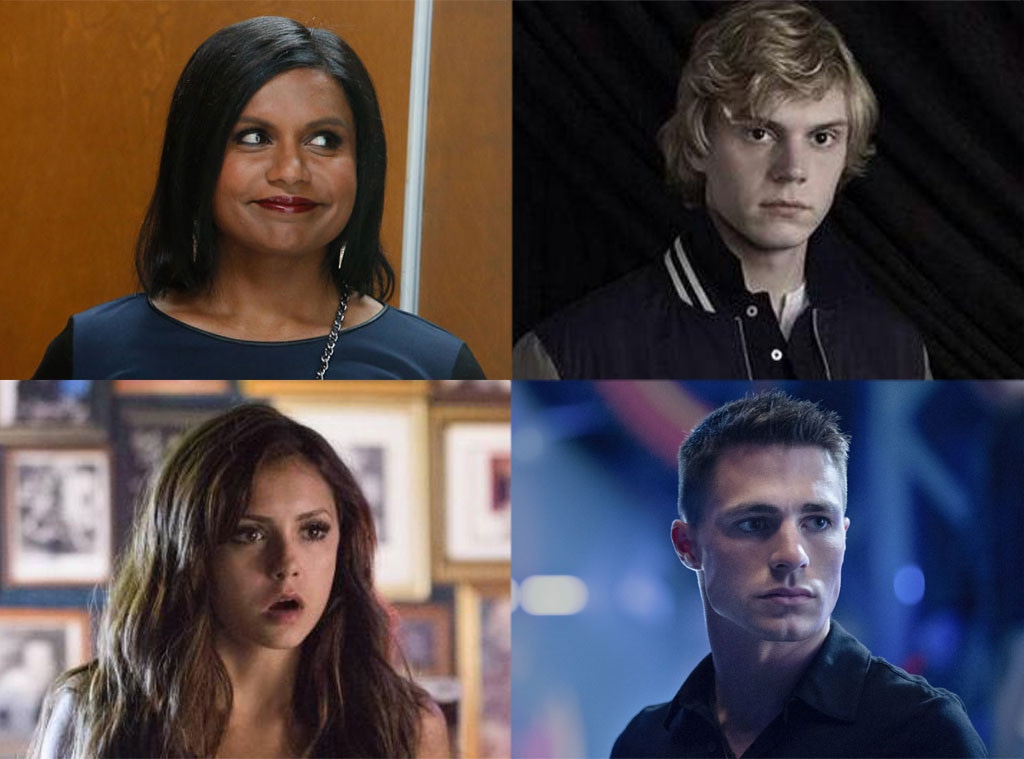 Fox; FX; The CW
TGIT.
Who needs Friday, when you can get tons of TV spoilers on Thursday?! In today's Spoiler Chat, we've got scoop on the upcoming flashback American Horror Story: Coven fans will not want to miss, as well as another flashback on The Vampire Diaries! There are also goodie on a new family member that Mindy Project viewers will be meeting and just how long we'll have to wait to see two Arrow characters become their superhero alter egos!
Plus, there's scoop on Arrested Development, The Crazy Ones and more...
Tate: Ugh, Dana is the worst on Homeland. Tell me we'll see less of her as the season continues?
Nope, sorry. We will be seeing more Brody family drama coming up. You think Dana's shenanigans will stop? Keep dreaming. But on the plus side, Brody, the (former) man of the house will be back in action very, very soon.
Veronica: OBSESSED with American Horror Story: Coven's premiere! But I want to know more about France Conroy's character!
Be patient, the fabulous Myrtle's backstory is coming and it involves Jessica Lange's Fiona!  "She's truly Jessica's nemesis. There's an entire episode where we show she and Jessica when they were 18 at the school and why they became bitter rivals," Ryan Murphy spills. "And Jessica was very deadly even as an 18 year old. She's really, really funny and very specifically stylish and odd."
William: Please please please tell me I will get to see Katie Cassidy don the Black Canary outfit by season's end on Arrow? And what about Roy becoming speedy?!
Arrow may just shock you by having both of these things happen sooner than you'd expect. "I think as always with these things, I think we surprise people with how fast get to things," boss Andrew Kreisberg hints to us. "If it's a great idea, our instinct is always to pull it forward and figure out the repercussions of it afterwards. If it's a great idea, why wait?"
Winnie: Any TVD scoop?
Grayson Gilbert is returning! No, not from the dead, but in a flashback. Fans will see Papa Gilbert again when a younger Elena catches him off guard while he's busy at work in their basement, which may be harboring some secrets.
Stefanie Keenan/WireImage
Shane: I'll take anything you've got on Danny on The Mindy Project. Love him!
Prepare to meet more of the Castellano clan! We'll be meeting Danny's younger bro Richie in episode 10 and you can expect to see a lot of brotherly affection between the duo. We'll also learn more about Danny's father, who he doesn't share the greatest relationship with.
Caitlin: So excited to see Ashley Tisdale on The Crazy Ones! What can we expect from her character?
A possible mentorship with Sarah Michelle Gellar! Tisdale's character Kelsi may be the agency's new intern, but she doesn't plan on actually doing any work, using the fact that her father is one of their biggest client's to her advantage. Sydney? Yeah, she's not down with that and tries to take Kelsi under her wing.
Shawn: What's the status of Arrested Development maybe sort of possibly doing more episodes for Netflix?
Will Arnett tells us that more Bluth family hijinks are ahead, it's just the format that is being worked out. "I can't really confirm precisely what's happening, but I can tell you that we are actively working on something right now," the man behind Gob reveals. "Once we have that nailed down then there will be more of an official announcement to come from Mitch Hurwitz. It's something that we're all open to doing and I think we're going to do." Bring on the bees!
Thomas: I really enjoyed The Tomorrow People and was genuinely surprised that Stephen joined Ultra in the end. What's next?
Double agent fun, which will go on for a little bit. "There's proven to be a wealth of story and tension that comes from it," executive producer Phil Klemmer teases. "You can play stories where he's working at Ultra, you can play stories where he's with the Tomorrow People, you can play stories where he's being sort of tug-of-war back and forth."