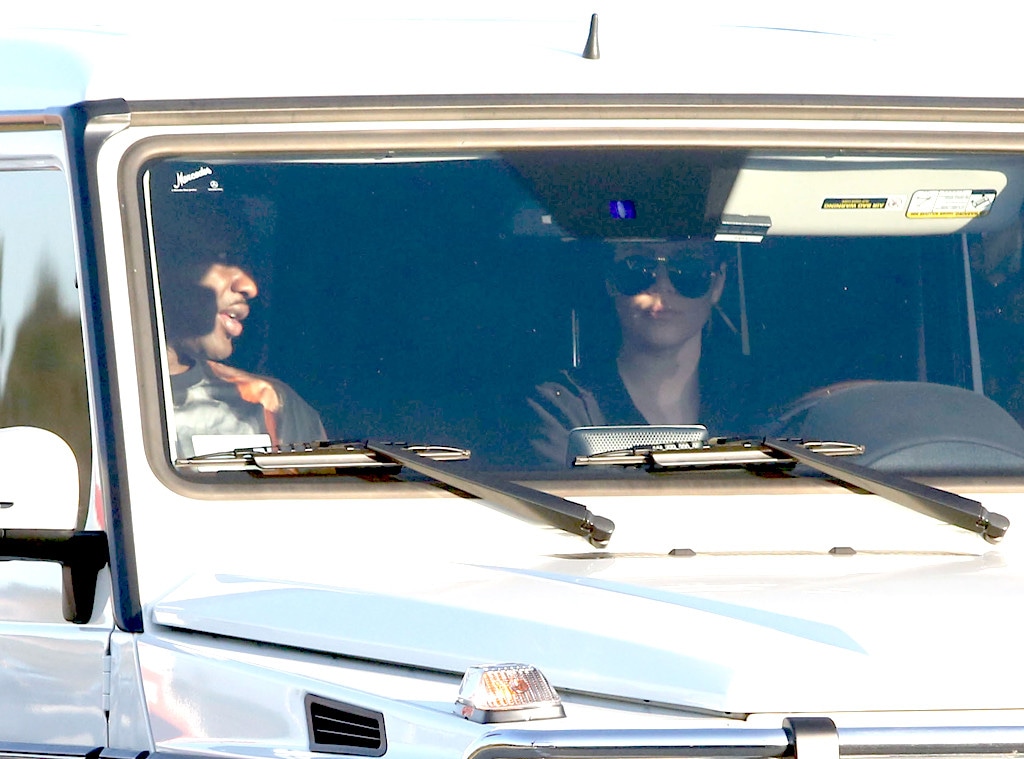 FAMEFLYNET PICTURES
Looks like Khloé Kardashian Odom and Lamar Odom are putting their troubles aside in the wake Bruce and Kris Jenner's separation.
The married couple was photographed together for the first time in over three months on Tuesday in Calabasas, Calif., where they were snapped driving in a Mercedes SUV.
Wearing a serious expression and large sunglasses, Khloé sat behind the wheel while her husband of four years took the passenger seat, turning to face his wife as paps snapped pics of the troubled pair.
E! News has learned that the couple left their house yesterday late afternoon, and there was very minimal interaction between the pair.
While they did not appear to be arguing, there were certainly no smiles or affection exchanged, with the eyewitness noting that Lamar looked a bit gaunt, although it was difficult to tell with the sunlight.
The photograph of the duo, who recently spent their fourth wedding anniversary apart, comes on the heels of the news that Kris and Bruce Jenner have separated after 22 years of marriage.
"We are living separately and we are much happier this way," the pair exclusively told E! News. "But we will always have much love and respect for each other. Even though we are separated, we will always remain best friends and, as always, our family will remain our number one priority."
Shortly before news of the longtime pair's split was announced, the 29-year-old beauty took to Twitter to say, "My motto lately….F--k you."
Devone Byrd,PacificCoastNews.com
Her frustrations are understandable considering the tabloid talk that has been surrounding her marriage as of late, with reports most recently suggesting the E! star has been romancing The Game—a rumor which the rapper firmly denied.
"The pictures that [you] see of us out together are because she is a part of my 60DaysofFitness team," The Game told E! News in a statement. "Khloe is my friend. She is like a sister. We have never and will never be sleeping together. Lamar is my homie and her husband and I wish people wouldn't spread such false rumors."
Despite one source telling E! News in September that "divorce seems imminent" for the duo, Khloé has consistently been seen wearing her wedding ring, and the twosome has been in contact since Lamar's arrest for alleged DUI on Aug. 30, although they have been living apart.
The brunette beauty, who was seen opening up about her hubby being "in a deep low" during the most recent episode of Keeping Up With the Kardashians, was also live-tweeting during the East Coast airing on Sunday, and she fired off a few very pointed tweets that appeared to address the continuing onslaught of stories about her and Lamar.
RALPH PETTS / XPOSUREPHOTOS.COM
"Speculate all you want. The armor I put around MY family can't melt or even scratch. So continue to throw your daggers," Khloé wrote during the show.
She added: "You will never cut us, you will just tire yourself out. Strong and united we will still stand."
"She's very sensitive and she loves really hard and she feels with all of her soul," mom Kris Jenner recently told E! News of her daughter, "but she also has the ability to put that game face on and go out there in the world and do what she needs to do."