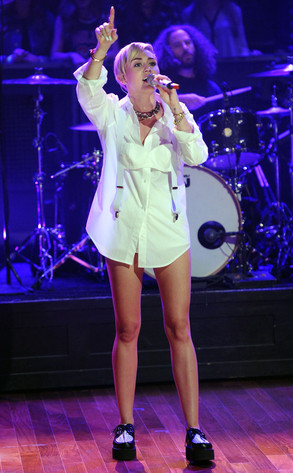 Jamie McCarthy/Getty Images
Miley Cyrus appeared sans pants when she stopped by Late Night With Jimmy Fallon on Tuesday, Oct. 8. Wearing an oversized white shirt and gold jewelry, the platinum-haired pop star joked, "I'm catching pneumonia in your studio right now."
"It's very cold," host Jimmy Fallon agreed, "but you have to wear clothes when you come on here." Cyrus laughed and replied, "I asked if I could bring a blanket and they looked at me like I was crazy."
Fallon went on to praise Cyrus for her Oct. 5 appearance on Saturday Night Live, in which the singer poked fun at her infamous MTV Video Music Awards performance, the government shutdown, Fifty Shades of Grey and more.