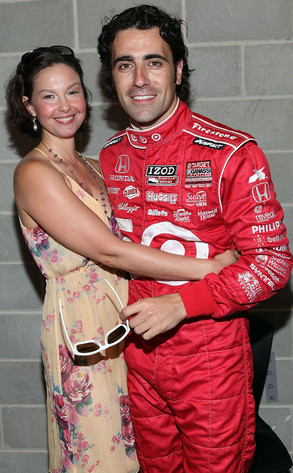 Robin Marchant/WireImage
Ashley Judd and Dario Franchitti are counting their blessings after the race car driver crashed during the Houston Grand Prix on Sunday, Oct. 6. The Divergent actress took to Twitter to express her gratitude the following day. "Amazed by the incredible outpouring of care & prayers," Judd wrote. "Thanks, everyone. Keeping our heads down here & doing what's in front of us to do."
Franchitti sustained several injuries after his car launched into the air and hit a fence. In addition to fracturing two vertebrae as a result of the accident, he also suffered a concussion. The 40-year-old underwent surgery Sunday to repair his broken right ankle.
Debris from the crash also injured 13 fans and one IndyCar Series official. Scoring official Kim Tyger suffered minor injuries and went to the hospital, as did two other attendees. The 11 remaining fans were treated on the scene and released.