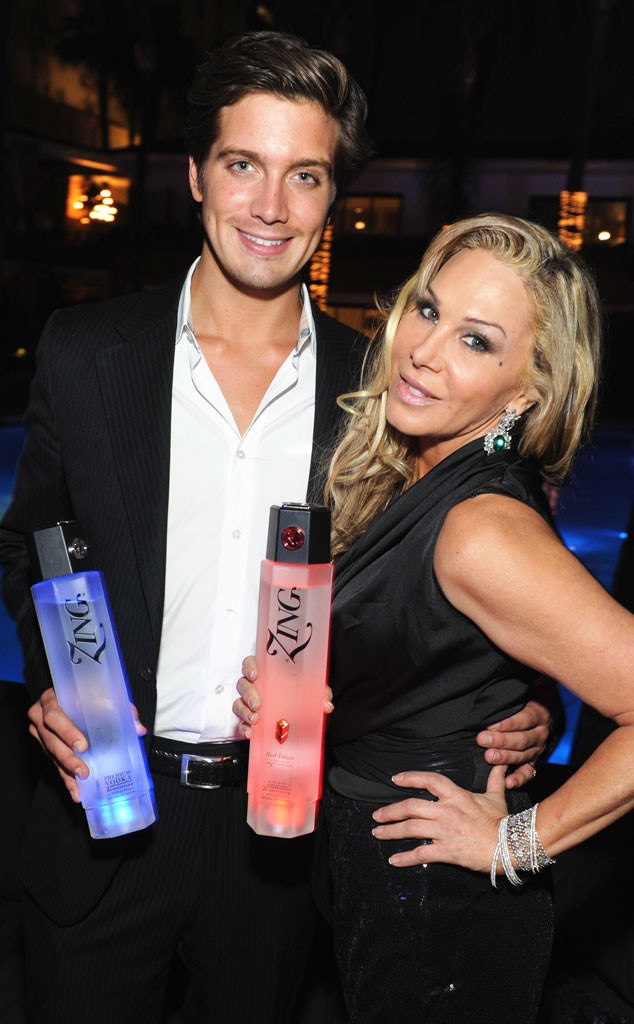 Angela Weiss/Getty Images
Adrienne Maloof is opening up about the new man in her life: 24-year-old heir to Anheuser-Busch Jacob Busch.
"When you meet someone they don't have a number on their forehead," the 52-year-old beauty told E! News while promoting her Zing vodka brand. 
The budding couple first made headlines last week after they were photographed packing on the PDA Tuesday night while attending Star Magazine Scene Stealers event at the Roosevelt Hotel in Hollywood.
The pair initially met at Robert Shapiro's event in honor of his late son Brent at The Summer Spectacular in Beverly Hills on Sept. 7th, with a source telling E! News that Busch was instantly attracted to Adrienne, who he thought she was "really hot," after their first encounter.
"Our great grandfathers knew each other through the liquor industry," she shared. "When we met we just hit it off. It felt so natural, so organic."
"It's real, it's genuine, they're very natural together," a source previously told E! News of Adrienne and Jacob's relationship. "They have fun together and he treats her like a princess."
The former Real Housewives of Beverly Hills star is currently working hard promoting her Zing vodka, which she says was a natural business venture, as her family has been in the alcohol industry for over 150 years.
"I felt very comfortable launching Zing Vodka...I am very involved with the product- the LED light in the bottle was my idea," Maloof told E! News. "It's just a gorgeous bottle, it looks sensational. The idea for the Red Velvet vodka came from my family just being in the love with that taste," she said, adding that the Red Velvet Cosmo is her favorite cocktail.
And the entrepreneur, who exited RHOBH after season 3, also opened up about her reality TV past.
"The RHOBH was a great opportunity for me to do more philanthropic  work and also to launch more business ventures. However, there comes a time when you want to exit," she explained. "I'm not saying I will never do reality TV again, just maybe not in the same light. But the Real Housewives is an amazing franchise."
—Reporting by Ruth O'Neill