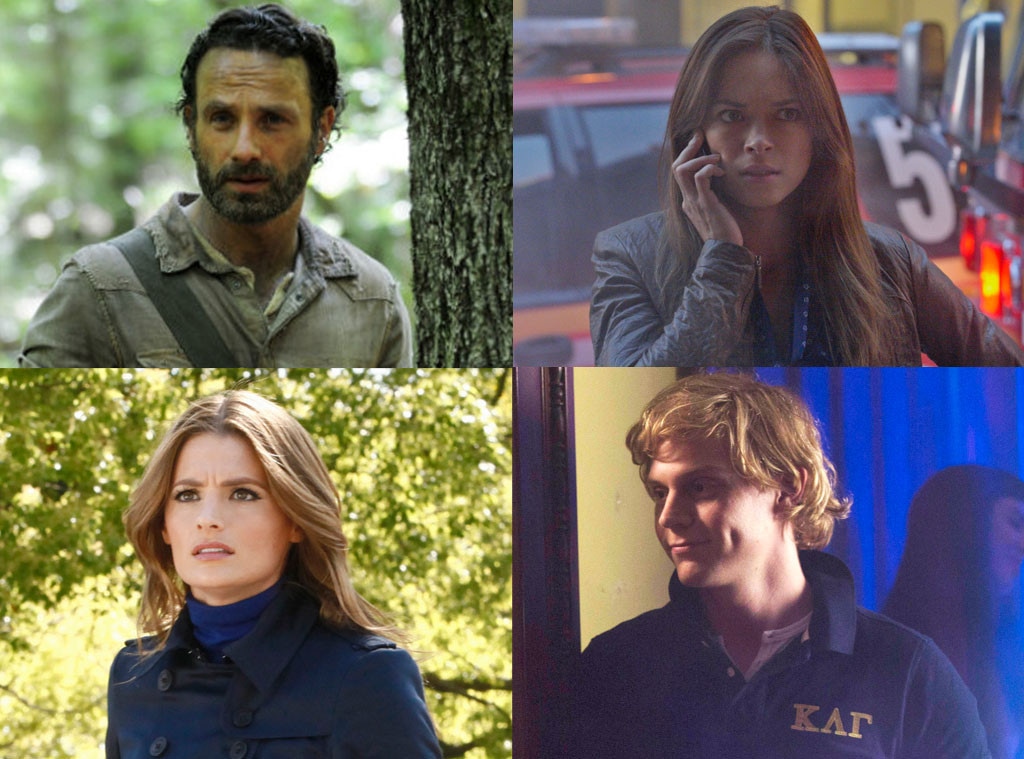 AMC, ABC, CW, FX
Zombies, witches and Beasts, oh my!
Today's Spoiler Chat takes on a bit of a supernatural theme, as we've got scoop on The Walking Dead's highly anticipated return, American Horror Story: Coven's crazy finale twist you might not see coming and an update on a Beauty and the Beast romance. Plus, we've included some spoilers on the "conflict" Castle's engaged pair will be facing, Arrow's new origins story and daddy issues on The Blacklist...

Brennan: S.H.I.E.L.D. question: will there be more storylines like the one in the pilot? I liked the reluctant superhero idea.
Yes, fans of the pilot will be happy to know that the S.H.I.E.L.D. gang is far from done looking for people who have recently become super. Episode nine in particular will be pleasing to those who want Coulson and his crew to get back to business.
Ash: I'm the biggest Caskett fan! Got Castle scoop regarding my fave couple??
Stana Katic talked to us recently about the future of Kate and Castle, and it doesn't exactly sound like smooth sailing ahead. "I think these two characters have strong opinions, and that will create a lot of conflict and opportunity for romance and interest, hopefully," she tells us. "It would be a new kind of like, new version of the show. But they've been revolutionizing the show, I think, for the past two or three years, so I think that they did a nice job of kind of shifting it into the romance last year, and now finally into the engagement, and I'm already filming episode seven or right, and it seems like they're doing a great job of kind of creating that shift." Gird your loins, shipper.
Rebecca: Digging your Walking Dead Countdown this week! Everyone keeps talking about this "new threat". Do we have to wait long to see what it is?
You will know by the end of the first episode, so…Nope! The new threat will be (sorta) revealed in week one. The season premiere is pretty fantastic, BTW, and while Rick's storyline is quite frankly a wee bit snooze-worthy (he goes for a walk in the woods, and meets a woman..zzzzz) it does have a twist and will shed light on what version of Rick we are getting this season. (Hint: Someone suggests he buy overalls and chew on a little hay.)
Nancy: LOVED the BATB premiere, but nervous about VinCat's future, especially with Gabe still in the picture!
Fret not over the handsome former Beast's presence as Sendhil Ramamurthy assures that Catherine won't be feeling amorous about Gabe anytime soon. "It stays pretty combative, certainly in these first few episodes," he teases of the duo's dynamic moving forward, "and then they kind of grow to an understanding. And Gabe kind of shows that he's on board with going forward with this and trying to help with a cure for Vincent."
Karine: Any scoop on Arrow would be great! Maybe about Roy?
Mini-vigilante is still trying to be a vigilante when we see him again in season two, much to Thea's dismay. But he's not giving up, even after several meetings with the Hood, who suggests he should. Oh, and you can expect to see the two come to an understanding by the end of episode two, one that will please fans hoping to see Colton Haynes eventually don a superhero suit of his own (aka everyone in the world).
Conor: Counting down the minutes until American Horror Story: Coven's premiere! I'll take whatever info I can get!
Well, you may want to start counting down the minutes until AHS's finale as Ryan Murphy says he may reveal season four's theme and location in Coven's last scene. "Right now I'm writing episode 9 or 10 so I will definitely get that in," Murphy spills. "I always thought it would be cool to have the season end and the last image will be this is what the next season is about and you'll get the title."
Trixie: Emergency! Missing Suburgatory spoilers!
We should really have a talk about what constitutes an emergency. But lucky for you, we've got some good Suburgatory scoop for you. In episode nine, we'll meet Dallas' younger sister, but this family reunion will not be sunshine and roses. Oh, no. Dallas' sister blames her for the death of their mother, but Dallas will try her damnedest to mend their broken relationship.
Nicholas: The Blacklist is my new favorite show! Any scoop on why Reddington is so interested in Liz?
Ya know that theory circulating that he's her father? Well, those theorists may want to head back to the drawing board after this tease: We will meet Liz's father Sam, who is battling a sickness, in episode seven and soon learn he shares a history with a man with an affinity for hats…