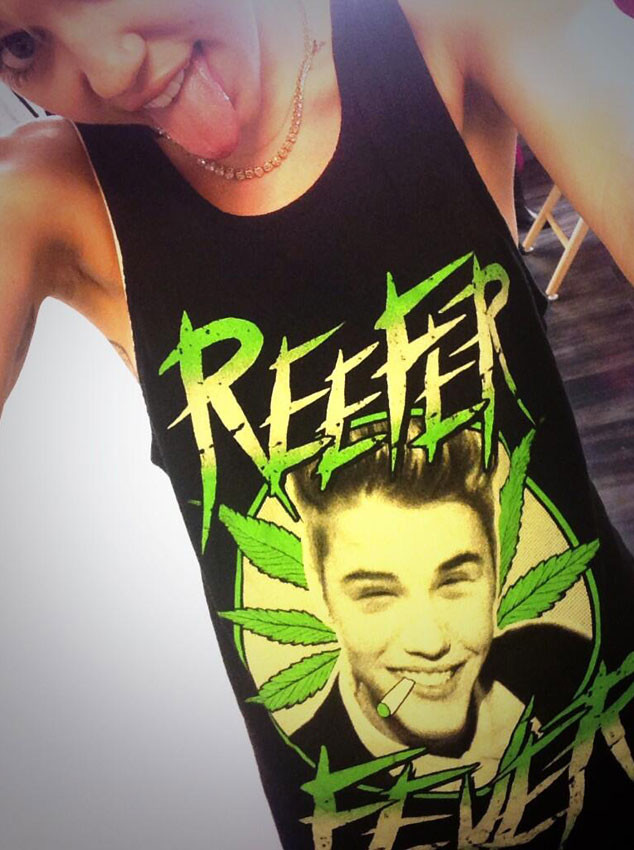 Twitter
Miley Cyrus likes smoking weed, y'all. She also likes her friend and mentee Justin Bieber.
So, it should come as no surprise that Ms. Cyrus has a "Reefer Fever" tank top that shows a droopy-eyed Biebs toking up on a cartoon joint. The "Wrecking Ball" singer tweeted a picture of herself wearing said shirt on Monday, Oct. 7, adding, "@justinbieber FO LIFE."
Miley explained to Rolling Stone's Oct. 8 issue that she's spent "a little time" advising Justin. "Because I've been doing this s--t for a long time, and I already transitioned, and I don't think he's quite done it yet," she said. "People don't take him seriously, but he really can play the drums, he really can play guitar, he really can sing…I just don't want to see him f--k that up, to where people think he's Vanilla Ice. I tell him that. Like, 'You don't want to become a joke. When you go out, don't start s--t. Don't come in shirtless.' But the thing is, I think boys are, like, seven years behind. So in his head, he's really, like, 12."