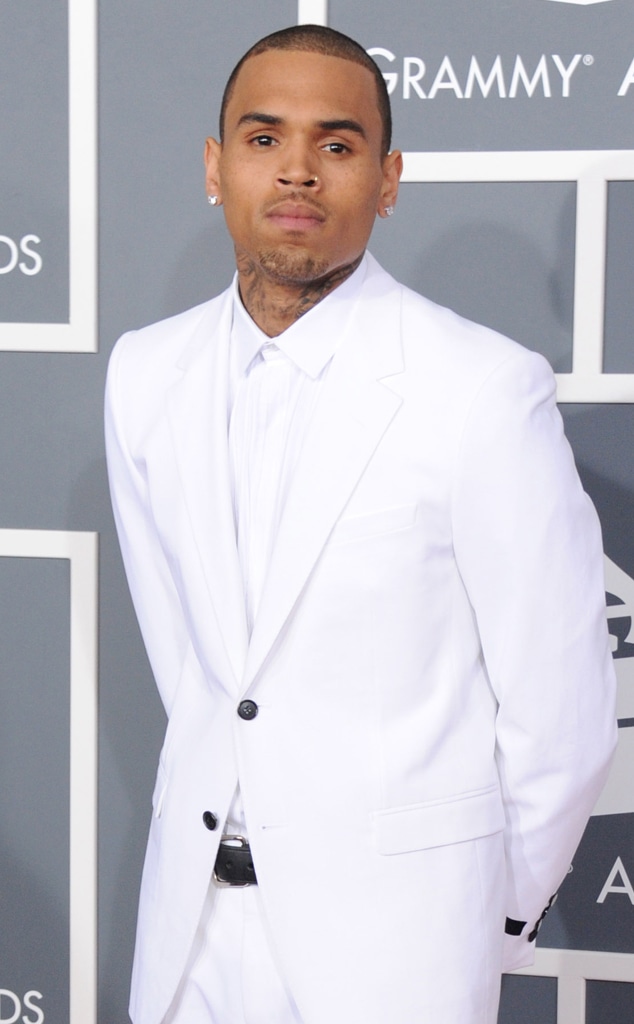 Jordan Strauss/Invision/AP
Chris Brown is getting candid.
In an interview with the UK Guardian, the 24-year-old "Love More" crooner opened up about losing his virginity at a really early age, his infamous beating incident with Rihanna and why he thinks his latest community service order is a "b-tch."
Brown, who lost his virginity at age eight to a girl who was 14 or 15, told the mag with a chuckle, "It's different in the country," adding that he and his friends watched a lot of porn. "By that point, we were already kind of like hot to trot, you know what I'm saying? Like, girls, we weren't afraid to talk to them; I wasn't afraid. So, at eight, being able to do it, it kind of preps you for the long run, so you can be a beast at it. You can be the best at it."
The singer also knew early on that he wanted to be a singer, and was discovered by a record producer when he was only 13.
While Brown's career took off when he released his double-platinum debut album Chris Brown at 15, things took a turn for the worst in February 2009 when the Battle of the Year star got into a physical altercation with his then-girlfriend Rihanna.
Brown called the incident "probably the biggest wake-up call for me," saying, "I had to stop acting like a little teenager, a crazy, wild young guy."
Since that incident, he has gone on to win a Grammy, and release three more albums, saying he wanted to prove people wrong—that he could make a comeback after it.
Christopher Polk/Getty Images
And although it seems he accomplished that goal, Brown hit another snag in August when a judge revoked his probation and gave him 1,000 additional hours of community service after he was involved in a hit-and-run accident earlier this summer.
Referring to the judge's "comprise" ruling as vindictive, Brown said, "Community service, that sh-t is a b-tch. I'll be honest – and you can quote me on that – that is a motherf--ker there. For me, I think it's more of a power trip for the DA. I can speak freely now, because I don't really care what they say about it, but as far as, like, the 1,000 extra hours they gave me, that's totally fricking bananas."
"They want me to be the example," Brown went on. "Young black kids don't have the fairer chances. You can see Lindsay Lohan in and out of court every day, you see Charlie Sheen, whoever else, do what they want to do."
"There hasn't been any incident that I started since I got on probation, even with the Frank Ocean fight, the Drake situation, all those were defense modes," he went on. "People think I just walk around as the aggressor, this mad black guy, this angry, young, troubled kid, but I'm not. I'm more and more laid-back. It's just that people know if they push a button, it'll make more news than their music. Attaching themselves to me, good or bad, will benefit them."
As far as where Brown sees himself in the future, he said he wants to be "wealthy" and "sell ground-breaking numbers on an album."
Perhaps that success will come with his next album, X, which he describes as "musically sound, diverse" with a "lot of different genres attached."
X is set to hit stores Nov. 19.