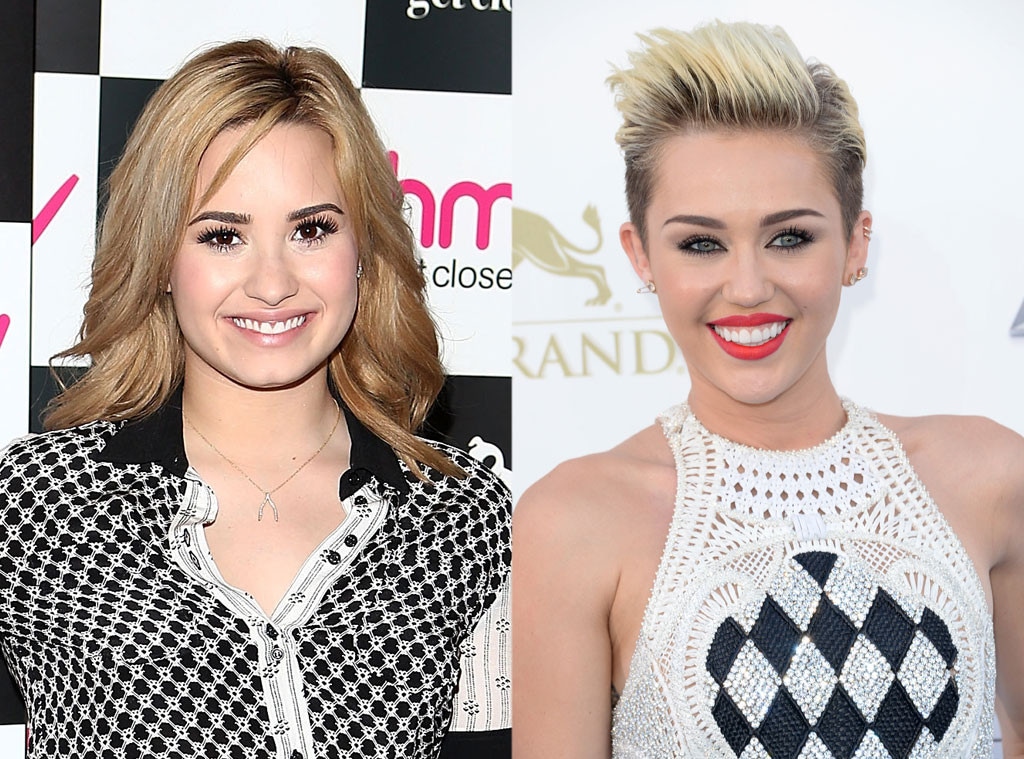 Tim P. Whitby, Jason Merritt/Getty Images
While Sinead O'Connor seemingly can't stop slamming Miley Cyrus, Demi Lovato is jumping to the 20-year-old pop star's defense.
During a recent interview with Fox 31's Everyday, Lovato was asked to share her thoughts on the "Wrecking Ball" singer's controversial new image, and 21-year-old songbird was quick to show her support for Cyrus while applauding Miley for staying true to herself.
"I've said this a million times, I know Britney [Spears] and Miley very well. Miley has been one of my best friends growing up and so I'm happy for her," the newly blue haired beauty said. "She's doing what she wants to do and this is her time to break out and figure out, you know, what she wants to do in her career and her image and everything."
Although Demi didn't directly endorse Miley's eyebrow-raising antics—including her controversial performance at the MTV Video Music Awards in August and more recently, her scandalous video for her single "Wrecking Ball," in which the singer appears completely naked and licks a sledgehammer—she did give Miley props for doing things on her own terms.
"I'm happy seeing her happy because I love her so much," Lovato continued. "And, you know, she doesn't care what people think, nor should she."
This isn't the first time Demi has defended Cyrus, although the sober star has previously admitted to warning Miley about her hard-partying ways.
"I think it's great. I think it's a good song," the former Disney star previously told MTV News of Miley's party anthem "We Can't Stop" before adding, "She knows how I feel about the whole partying thing."
"I love her to death," Lovato continued. "And I'm always like, 'Just be careful.' And she's like, 'Dude, I'm chilling. It's fine.' I care for her so much [that] I'm so protective, but she's good. She's got a good head on her shoulders."
While the days of Hannah Montana and Sonny With a Chance may be in the past, it looks like these Disney darlings are sticking together.