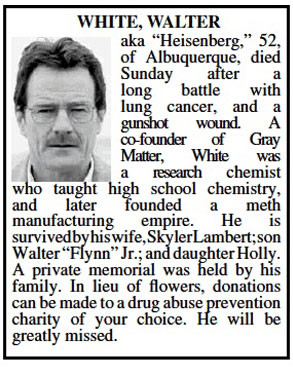 Albuquerque Journal
Breaking Bad fans, this is awesome!
In honor of the hit show's big series finale this past Sunday, Breaking Bad fans sad to see the hit show go have placed an obituary for Bryan Cranston's character Walter White (who passed away in the finale) in a local New Mexico newspaper.
"Walter White aka 'Heisenberg,' 52, of Albuquerque, died Sunday after a long battle with lung cancer and a gunshot wound," reads the obit, which can be found on page A4 of today's Albuquerque Journal. "A co-founder of Gray Matter, White was a research chemist who taught high school chemistry, and later founded a meth manufacturing empire."