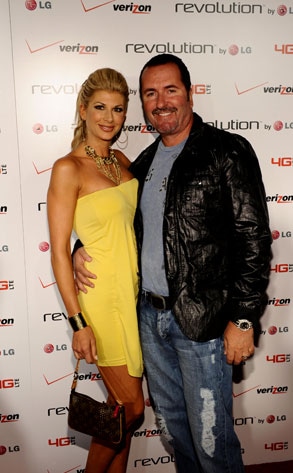 Michael Buckner/Wireimage
Real Housewives of Orange County fans have seen a fair amount of drama go down at Alexis Bellino's house.
But none of it involved federal agents—then or now.
"Today there was a posting on a gossip website stating that we were raided by law enforcement. It is an outright lie," Bellino said in an exclusive statement to E! News, referring to a report that the FBI busted in on the home she shares with husband Jim Bellino and their three children as part of a bank fraud investigation.
"Being the subject of false statements and gossip is, unfortunately, one of the drawbacks of being in the public eye," Bellino continued. "We are demanding a retraction and expect the posting to be retracted because the statement is completely false."
She wouldn't have been the first Housewife to have the government come knocking, though. Real Housewives of New Jersey stars Joe and Teresa Giudice have been indicted on charges including mail and bank fraud related to their 2009 bankruptcy filing. Joe is facing an additional five counts of failing to file tax returns on about $1 million in income as well.
They have pleaded not guilty on all counts, but are facing prison time and hefty fines should they be convicted.
"We're good people. I don't understand why this is happening to us," Giudice told Bravo's Andy Cohen on Sunday's Watch What Happens Live, calling the charges "devastating."
Along with Gretchen Rossi, Bellino will not be returning for RHOC's ninth season, with an insider telling us that the consensus was that "both of their journeys on the show have come to an end."
May their journeys be nothing but smooth sailing from here on out.