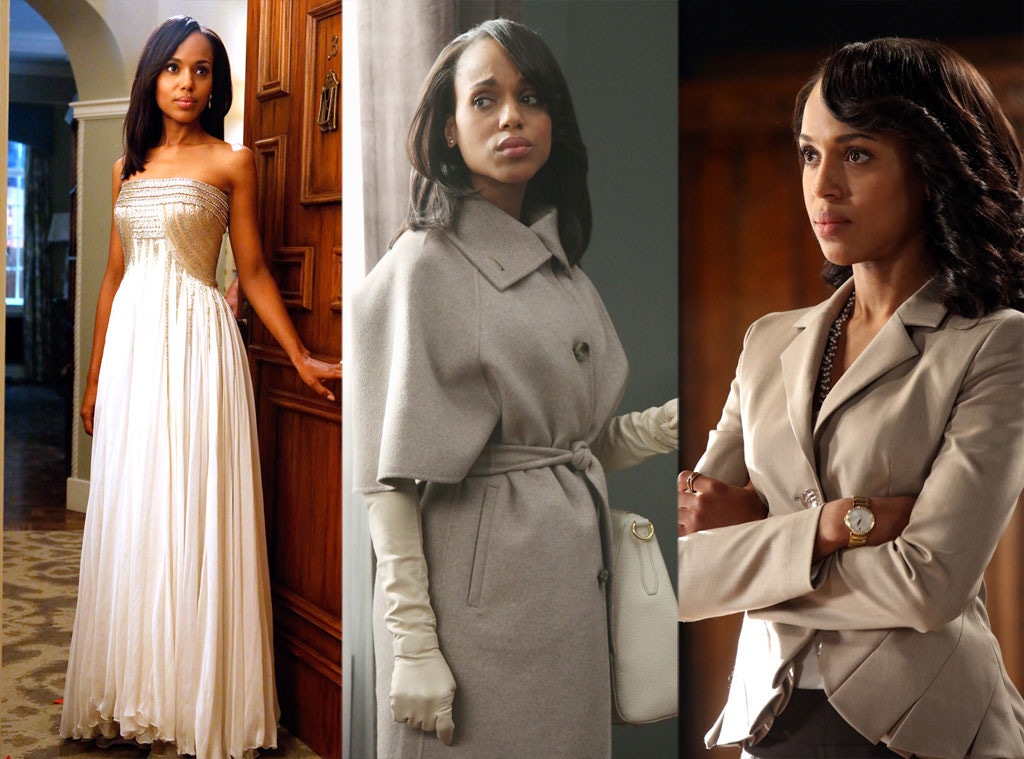 ABC
Gladiators, rejoice: Scandal is finally back tonight!
And while we are damn near hysterical waiting to find out what is happening with Olivia Pope (Kerry Washington) and her true love Fitz (Tony Goldwyn as POTUS), we're more anxious to see what Capitol Hill's best fixer will wear! Because, let's be honest, it's been a long summer without a glimpse of her Max Mara coats and Michael Kors gowns.
Well, spoiler alert! The show's costume designer Lyn Paolo dished exclusively to E! News on exactly what we can expect from our favorite white hat-wearing mistress to wear in season three.
"There's this amazing moment at the beginning of season three where everyone thinks they know that Olivia is the mistress, and I saw this Burberry coat in British Vogue and knew it would be perfect," shares Lyn. "I felt like she needed to be the white knight, so she needed to be in white, but I didn't want to do a suit. I wanted whatever she wore to look like armor."
The solution? "She wore the coat completely fastened to the neck not showing any skin, and we talked about the cape being sort of like a superhero so she literally never takes the coat off," says Lyn, adding: "She's completely closed off emotionally, but she's still all in white so she's still the good guy! That's a huge symbolic images for the opening of this season."
Fans may notice the new white coat is very similar to Olivia's Tory Burch version from the ABC drama's pilot episode (above).
As for the Prada bag she carries that has become iconic amongst fashionistas as the "Olivia Pope purse," Lyn says not only will there be another "amazing" Prada piece this year, but viewers will also find out why it is Olivia's bag of choice in upcoming episodes.
"That's the magic of Shonda Rhimes," raves Lyn. "She wrote the bag into the story and created a real reason for it."
Ironically, the now-beloved tote wasn't even supposed to be on the show. "The reason Olivia carries a Prada purse was kind of a mistake," explains Lyn. "For the first fitting for the pilot, I had my Prada purse in the room with these 30 other purses and Kerry said, 'Oh, what about that one?' and I was like, 'That's mine!' And she wore it in the pilot and I've never got it back!"
Since she was already down Scandal memory road, we couldn't resist asking Lyn to pick her favorite Olivia Pope looks from seasons one and two.
After all, not since Carrie Bradshaw have we been so utterly obsessed with a TV character's style—and what better way to fill out the last few hours before tonight's premiere, right?
Click through our gallery to see Lyn Paolo's top 10 favorite Olivia Pope looks.