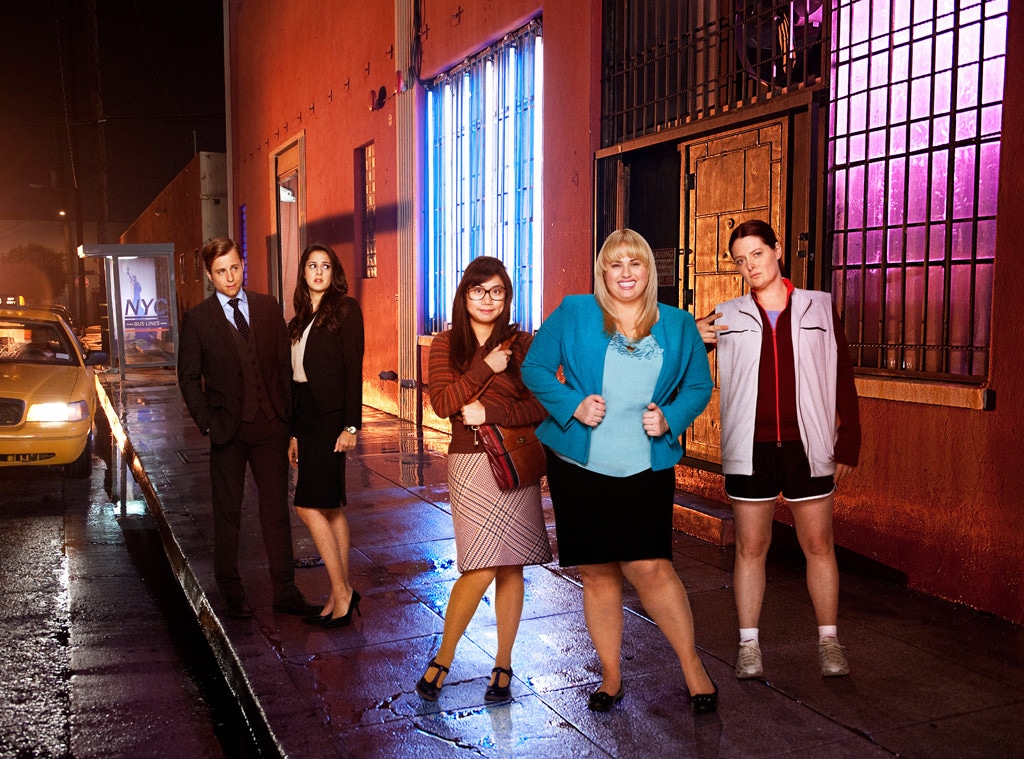 ABC/Craig Sjodin
Oh, Rebel Wilson.
We laughed with her in Bridesmaids. We fell in love with her in Pitch Perfect. And now, we're just ughhh with her in this newest entertainment endeavor, Super Fun Night. After watching ABC's newest fall comedy, you'll quickly realized that Wilson's over-the-top behavior that we all loved in her movies will smother you when packed into a mere 22 minutes.
To help you decide which of the many new series debuting this fall are worth your time, we're reviewing all of the five network's newbies, and we've got gathered up everything you need to know about Super Fun Night.
Super Fun Night (ABC):
Premieres: Wednesday, Oct. 2 at 9:30 p.m.
Time-Slot Competition: Criminal Minds (CBS), The X Factor (Fox), Law & Order: SVU (NBC), The Tomorrow People (The CW)
Cast: Rebel Wilson, Liza Lapira, Lauren Ash, Kelen Coleman and Kevin Bishop
Status: We've seen the first two episodes.
Watch:
Rebel Wilson Is Having a "Super Fun Night"
So Here's the Sitch: Brought to you by executive producer Conan O'Brien, Wilson stars as Kimmie Boubier, a recently promoted junior attorney who is used to spending each and every Friday night at home with her two best friends Helen-Alice (Lapira) and Marika (Ash). However, in an attempt to bond with her new super-attractive boss Richard (Royce) and overly bitchy coworker Kendall (Coleman), Kimmie rallies the girls to start spending their Friday evenings out of their sweatpants and into the city's nightlife.
We Get It, You Have Curves: But seriously where is your brain? Wilson spends the majority of the first two episodes obnoxiously poking fun at her weight (e.g., wrestling with her Spanx, ordering four pizzas at once, etc.) We agree that's great that to be able to laugh at yourself, but why does weight have to be such a gigantic punch line for this show?
For lawyer who just got a huge promotion, we have yet to see any of Kimmie's intelligence or passion for her job break through. Instead, all of scenes in the office have shown Kimmie bumbling around in her orthopedic shoes, getting her skirt ripped off by the elevator doors and stapling a different skirt back together after splitting the seams with a karate kick.
Oh, and did we mention the scene where she is sprinting down the hallway in a complete panic? You'd hope that she would be rushing to help out on a case, but the sad reality is that she heard a rumor that there were jelly donuts in the conference room. You're better than this, Rebel. You're smart and funny and have amazing comedic timing, so who do you feel the need to consistently flash your body just to get a few mediocre chuckles?  
An Aussiemerican: Wilson is from Australia, we've heard her talk about it, and it's amazing. Her natural accent is quirky and endearing, but unfortunately Wilson's character Kimmie is from that boring old US of A. Typically this wouldn't be a problem for viewers because we all live in and love this country, however Wilson has yet to fully master the American accent. So basically Super Fun Night is plagued with inconsistent vocals as Wilson's Aussie twang desperately, and almost painfully, tries to emerge. Our thoughts? Just change her character's hometown ASAP and let her embrace her amazing inner Aussie!
Verdict: DVR It. We're currently crossing our fingers and toes that ABC will try to fix Super Fun Night's many problems as quickly as possible and will give us a show that is worthy of the coveted post-Modern Family time slot. We have hopes that Wilson can turn this around, but as of now all we can say is we really really miss Happy Endings.
Our Review in GIF Form: