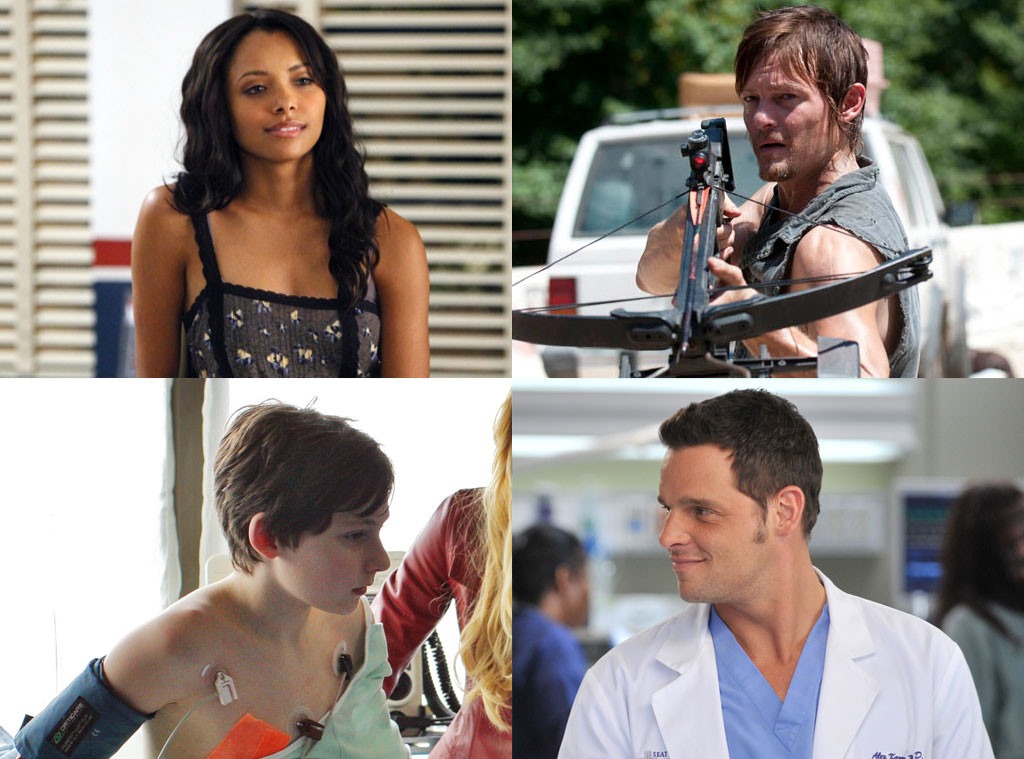 ABC, CW, AMC
Vampires, zombies and fairy-tale characters, oh my!
Yeah, today's Spoiler Chat definitely has a supernatural and fantasy theme, which we're totally OK with! Not only do we have scoop on tonight's deadly premiere of The Vampire Diaries, but we've got details on Once Upon a Time's new big bad's main goal, as well as the new season of The Walking Dead. Oh, and we've got spoilers on Beauty and the Beast's main beast.
Of course, we've also got scoop on some fictional normal people, too, like one hot doctor couple on Grey's Anatomy, Parenthood's hopeful mayor and House of Lies' new ass-kicker...
Debbie: You never give us any scoop on Hawaii Five-0. Make it up to us, please!
Prepare for one big flashback in episode seven as the CBS series will be going back to 1941. Yes, we will be seeing a flashback to Pearl Harbor, focusing on a Japanese-American couple with two kids.
Amy: Any last-minute scoop about TVD's premiere tonight?!
Prepare for not one, but two deaths. While neither will break your heart too much, one will devastate one of our beloved characters and the other will launch the season's big mystery.
Thomas: I have a OUAT question. Can you tell us why Peter Pan wants the heart of a true believer? What can belief do?
Five points to you, as executive producer Adam Horowitz is glad people are asking that very question. "What we didn't want to do was do a villain who just wants world domination and wants to do something terrible," he explains. "What we wanted was someone who had a really character-based motivation for why belief was important to him and why the truest believer was important to him. That's the story we're going to unfurl in these first 11 [episodes]."
Alice: The Walking Dead premiere is so close! Any scoop on what we can expect?!
Just the best season yet. No, really! Don't believe us? Fine, then we'll let Norman Reedus tell you. "This season's by far the best season. The writing is by far the best writing we've ever had," he gushes. "This season's nuts. It's going to blow people away."
Ben Mark Holzberg/The CW -- © 2013 The CW Network, LLC. All rights reserved.
Lee: I'm super-worried about VinCat on Beauty and the Beast! Please tell me there's hope!
Just know this: Cat is super-determined and believes in their love. In fact, the words meant to be are used twice, and their love is described as "epic" by someone else. Oh, and there is a VinCat kiss. (Flashback or present day? You'll have to wait and see!) But it will definitely be a rocky, rocky road in season two as their relationship has one very big adversary: Cat's real father!
Vanessa: I missed Jolex in the Grey's premiere! Please tell me we'll get a lot of action in the coming eps!
Going against Grey's Anatomy couple tradition, fans can expect a lot of lighthearted fun for the duo! "We have some fun stuff coming up," Justin Chambers teases. "I think people are going to be really excited about it." Camilla Luddington jokes, "He only has scenes with me this season!"
Max: House of Lies scoop would be great!
We recently chatted with Kristen Bell about House of Lies' upcoming season, and while she couldn't say much, she called this year "dirty" and says, "I'm not nice this season. I'm kicking ass." Watch out, boys!
Rory: The best couple on television is actually a three-way, and it's on Workaholics. Tell me what's ahead for my favorite boys.
If you're a shipper for Ders, Adam and Blake, you might want to grab something soft and comfy before reading what's ahead. The guys are going to get into a huge fight and totally "break up", and none of them take it well. One will be alone in a bathtub, one will be covered in crap (literally), and one will get wasted and (accidentally) go home with a gay man. In short: There is nothing pretty to see when those guys split up. Never fear, they'll make up by the end of the episode. But the psychological damage done to their friendship might never be fixed.