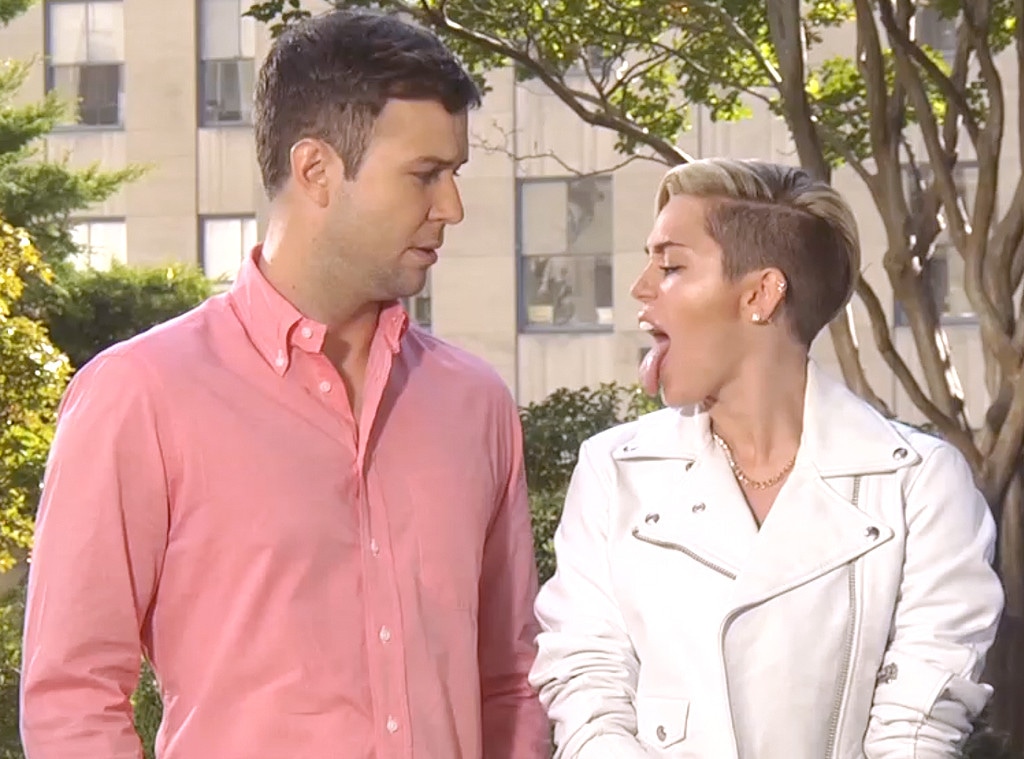 NBCUniversal
Miley Cyrus can't get over her MTV Video Music Awards performance either!
At least, she pretends not to be able to for Taran Killam's sake in one of four new promo spots for her upcoming hosting and musical guest appearance on Saturday Night Live—all of which you can watch right here!
"That VMAs performance, how could you?!" a stricken Taran asks his costar-for-a-week.
"I know, how could I?!" she agrees. "I mean, it was too much, the children!" he continues.
"And what was I wearing?!" Miley marvels. "And doing!" Taran added. "Don't forget about the children!" she presses him.
"God, the children!" Taran laments.
In the next promo, Taran asks the "Wrecking Ball" singer why she's always sticking out her tongue.
"It's how I smell," she claims. Miley then demonstrates by extending her now infamous organ and asking him, "Are you wearing women's deodorant?"
Keep watching and see Miley show Taran the 30 Rock roof she lives on ("That's my kitchen over there, there's my bathroom...") and find out what happens when he feigns naivete and asks her what she's been up to lately!
Miley takes over Saturday Night Live this week(!), Oct. 5, at 11:30 p.m. on NBC.
(E! Online is a member of the NBCUniversal family.)
Are you going to tune in to watch Miley host?