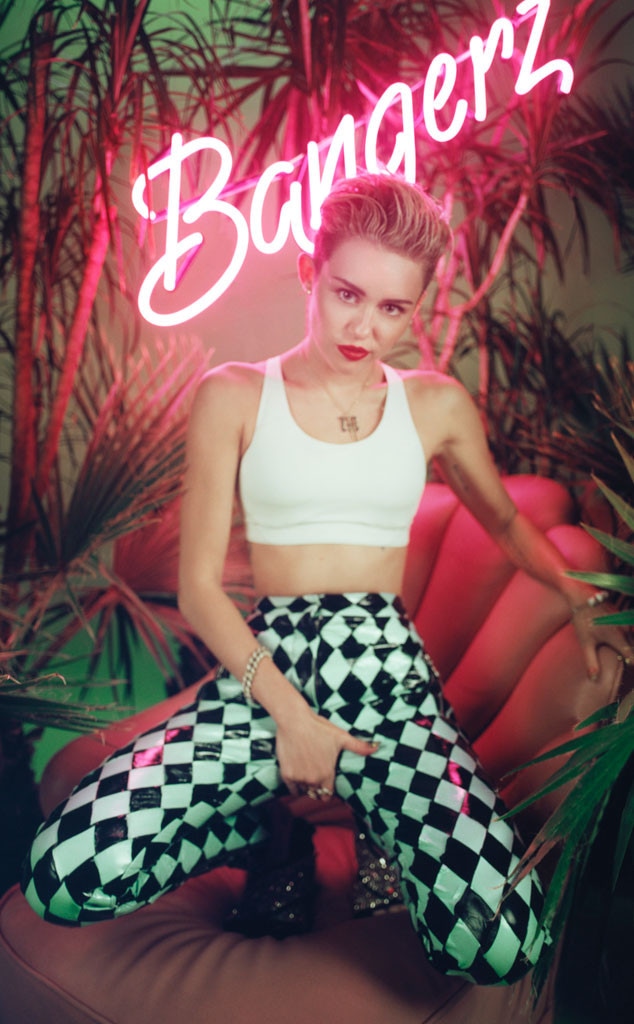 rcarecords
Miley Cyrus' album has officially been streamed in full as of Monday, and it's definitely full of Bangerz.
But the 13-track compilation is also jam-packed with powerful messages that are most likely about her ex fiancé, Liam Hemsworth.
Did we say powerful? We meant extremely revealing and blunt. (How else would Miley do things?!)
Hold up, it's the edited version, Smilers, and Miley's not having it. 
"You wouldn't edit art in a museum," she wrote on Twitter.
Let's take a look ourselves at some of the more candid lyrics throughout the album (none of these goodies were edited out of the livestream):
"Adore You": This ballad starts off lovey dovey, hinting at the Disney starlet's desire to marry the man in her life. It's actually one of few songs on Bangerz that shows the softer and more vulnerable side of the singer.
"You and me were meant to be in holy matrimony/God knew exactly what he was doing when he lead me to you."
Jeff Kravitz/FilmMagic, Mike Coppola/Getty Images for Hugo Boss
"My Darlin": Just a few short songs later, things go pretty sour. Miley thinly veils troubles in her relationship and how her beau won't support her through thick and thin.
"We were supposed to be together/Take me as I am or not/I can't breathe without you as mine/Oh darling stand by me."
"Drive": This slowed-down anthem proudly displays Miley's anger in the purest of forms. All you need to do is listen one time to the chorus to know that she's been heartbroken.
"What did you say forever for if forever's out the door/ I'll ignore when you call/ I was crazy thinking you were mine/ It was all just a lie."
FameFlynetUK/FAMEFLYNET PICTURES; Palace Lee/PacificCoastNews.com
"FU": As if the title of this track doesn't say enough, Miley clearly spells it out for y'all. While she doesn't explicitly say this song is about Liam, E! News learned weeks ago from a source that the twerking queen ended their engagement after she believed that the Hunger Games hunk "was less than faithful to her." Is this a case of art mimicking real life or the other way around? We'll let you decide.  
"It seemed like everything was going fine then I accidentally saw a few things in your cell/ I don't really have much to say/I was over it the second that I saw her name/I got two letters for you/One of them is F and the other is U because what you gotta do is get yourself a clue."
"Maybe You're Right": Miley takes a moment to reflect about what really lead to the demise of a relationship and how to pick up the pieces and move on.
"You might think I'm crazy that I'm lost and foolish leaving you behind/ Maybe you're right/ It's too late for us to try to be in love right now."
Larry Busacca/Getty Images for EJAF
"Someone Else": The last track on the album is easily the most emotional. Miley sings her heart out and opens up about becoming a different person over the years. Who said coming of age was easy?
"He left with my heart they both walked through that door without me/ If you're trying to find pretty well you need to look somewhere else /Because I surely can't help you/ I'm hurting myself I've turned into someone else."
Have you heard Bangerz yet? Tell us what you think below!