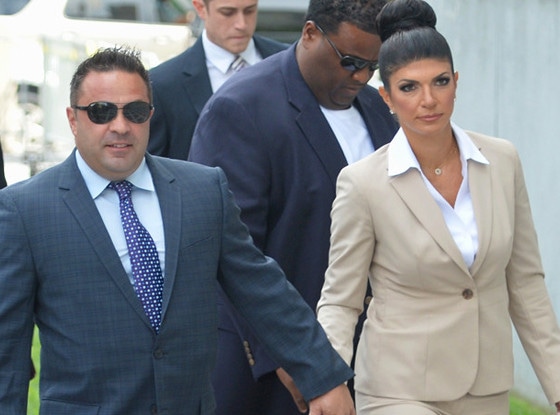 Mike Coppola/Getty Images
Teresa and Joe Giudice put on a united front when the couple appeared on a special episode of Bravo's Watch What Happens Live on Sunday, Sept. 29. The Real Housewives of New Jersey stars sat down with host Andy Cohen, where they discussed the 39-count indictment filed against them in late July.
"It's devastating," said cookbook author Teresa, 41. "I have anxiety and sleepless nights. I used to sleep like a baby, now I get up." She maintained their innocence throughout the interview, saying, "We're good people. I don't understand why this is happening to us."
If convicted, the Giudices could each spend up to 50 years in prison. Joe, meanwhile, wrongly estimated that they could spend twice that time behind bars. "I don't know. I'm not sure," the former pizza parlor owner said. "I think it was like 50 for…I don't even know. Fifty for each?
"No, it was 50 altogether," Teresa corrected him. "I mean, that's what they say in the magazines."
If the spouses do indeed go to jail, their four daughters— Gia, 12, Gabriella, 10, Milania, 7, and Audriana, 3—won't be moving in with relatives Joe and Melissa Gorga. "If God forbid something should ever happen to where we would have to worry about where the kids would go, it wouldn't be Melissa and Joe," Teresa's husband said. "I would have my sister, I would have my brother…I don't even think my kids would want to go with Melissa and Joe after all the things they say on television about their mom."
Teresa, meanwhile, won't even entertain the idea of being forced to leave her children. "I'm not really thinking about that right now," she explained. "I'm just focusing on my family, being a wife, a mom to my four beautiful daughters."
Asked point blank if they've ever lived beyond their means, Teresa replied, "No." Though they filed for bankruptcy in 2009, Joe added, "Whatever I could afford to buy I would buy. We work hard, so what, we are allowed to make money. It's part of that's what we do. I'm a business man and I make money."
The 39-count indictment alleges the Giudices lied about multiple income sources and conspired to commit mail and wire fraud, bank fraud and bankruptcy fraud. "Some of [the charges] I understand, some of them I don't," Teresa admitted. "I'm learning as we go."
Joe, 43, believes they will be acquitted of all charges. "We pleaded not guilty for a reason," he said, "because we're not guilty."
The Giudices said their costars have texted words of encouragement, and the Gorgas have called to voice their support. During an Aug. 4 appearance on Watch What Happens Live, Caroline Manzo—who will not return next season—said she was dumbfounded by the charges against Teresa and Joe.
"I can't even wrap my head around it," Manzo said. "It's unexpected. This is a big deal. I think for us, the housewives, we always comment on trivial things, and I think for me, the Manzos, our position is going to stay quiet. It's just too big and too serious for the peanut gallery. I'm just going to leave it at that."
During an Aug. 11 Watch What Happens Live appearance, Melissa said she and her husband are rooting for Teresa. "She knows I have her back, and that the kids, of course, are the No.  1 priority, and that's what Joe and I are always here for...no matter what."
The Giudices' trial is set to begin in February.
(E! and Bravo are both part of the NBCUniversal family.)