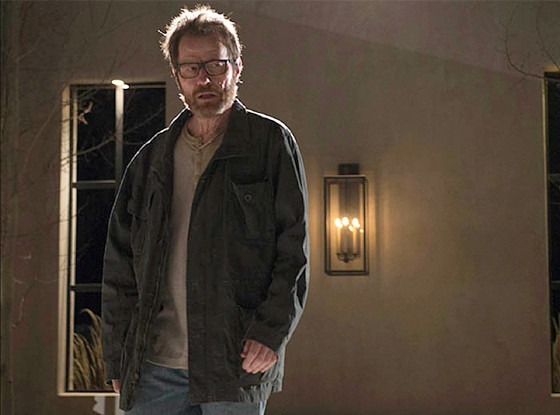 AMC
Spoiler Warning: If you have yet to watch the series finale of Breaking Bad, what on earth are you doing here?! There will be massive spoilers in this post, and we'll go all Heisenberg on you if you continue reading and then yell at us in the comments that we ruined it for you. For those who have seen it, let's talk about it!
Now that's how you end a series.
We don't want to shatter the beautiful Breaking Bad bubble you're in with a bogged down intro, so let's just get right down to talking about the final episode of the AMC drama, appropriately titled "Felina". Also known as "tying up loose ends in an awesome fashion":
Gretchen and Elliot: Through some clever maneuvering, Walt (Bryan Cranston) gets the address for his old Gray Matter buddies and shows up at their house. He gives them all the money he has (over 9 million dollars) and tells them that when Walt Jr. (RJ Mitte) turns 18 soon, they will use that money to start a trust fund for him. They shake on it, and then Walt signals something outside the window, and red dots suddenly appear on both Elliot (Adam Godley) and Gretchen's (Jessica Hecht) chests.
Walt tells them that he has hired the best hit men to keep tabs on them to make sure this money gets to Walt Jr. He basically terrifies the crap out of them in true Heisenberg style to ensure they do everything he says. Later we find out those "hit men" were actually Badger (Matt L. Jones) and Skinny Pete (Charles Baker) with laser pointers. His old partners will probably watch their backs the rest of their lives.
Skyler: Walt pays one last visit to his wife at her home and gives her the lottery ticket that has the coordinates to Hank (Dean Norris) and Gomez's (Steven Michael Quezada) bodies. He tells Skyler (Anna Gunn) to use it to strike a deal with the prosecution and get herself out of the mess he's caused. She allows him to see Holly one more time, as well as watch his son get off the bus before he leaves his family behind for good.
Jesse, Lydia, Todd and the Rest: Earlier in the episode, Walt built a contraption in his trunk that allows a machine gun to fire continually back and forth when he pushes his trunk button. With that piece of art in his car, he heads to Jack's (Michael Bowen) place. Walt told Lydia (Laura Fraser) earlier that morning that he can teach Todd (Jesse Plemmons) how to cook without methylene, which he knows they're running out of. He proposes the same thing to Jack and his guys now, but he is shut down cold and Jack tells his guys to kill him. Walt screams that Jack lied to him and made Jesse (Aaron Paul) a partner instead of killing him. That irks Jack, who brings in Jesse all chained up to prove that they're torturing him. Walt, seeing his former partner beaten up and tied up, tackles Jesse to the ground and releases his machine gun, killing everyone but Todd, Jesse, Jack and himself.
Jack, who is still alive but barely, tries to bargain for his life by offering to tell Walt where his money is, but just like Hank, Jack is cut off with a bullet to the head, courtesy of Walt.
Jesse uses his handcuff chains to strangle Todd and frees himself. Walt kicks a gun over to Jesse, who picks it up and aims it at him. Walt asks his former protégé to shoot him. Jesse sees that Walt has been shot in the stomach, so he tells Walt to shoot himself and leaves. With one final look at Mr. White, Jesse drives off, laughing and screaming with relief.
Lydia, looking extremely ill, calls Todd's cell phone. Walt picks it up and relays to her that her whole gang is dead, and by the way, he put ricin in the sugar she always uses to sweeten her tea.
With the sounds of police sirens getting closer and louder, Walt wanders into the lab and pays a visit to his equipment one more time. He then falls to the floor and dies, surrounded by his meth material with the police flooding the room.
Line of the Night: "I did it for me. I liked it. I was good at it. And I was alive."—Walt finally admitting to Skyler it wasn't all for his family
This recap cannot do justice to how perfect the finale was shot, edited and written. There were so many little touches that we can't describe here, so if you haven't watched it yet, we urge you to experience it for yourself.
So what did you all think of the finale? A satisfying ending to an amazing series or did it leave you wanting more? Did Walt's journey end the way you thought it would? Did you make any correct guesses or were you way off? Did everyone get the ending they deserved?
Vote in the poll below and check back tomorrow to see where Breaking Bad falls in our Finale Hall of Fame and Shame gallery.
Farewell, Breaking Bad. Thank you for the wonderful memories, bitch.
PS: Did Walt's preparation for revenge remind anybody of this Archer moment? Maybe just us:
(Originally published on Sunday, Sept. 29 at 7:15 PM PDT)