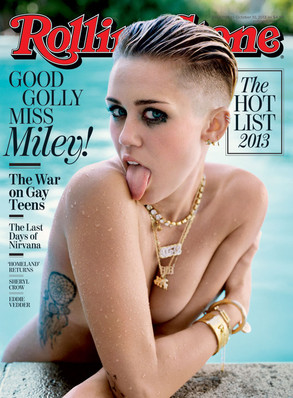 Rolling Stone Magazine
There's a method to Miley Cyrus' madness.
The revelations from her Rolling Stone interview outtakes keep on coming, with the conversation-starting pop star also telling the magazine that she had it all figured out before her now-iconic performance at the 2013 MTV Video Music Awards.
"I know what I'm doing. I know I'm shocking you," she said frankly. "When I'm dressed in that teddy bear thing, I think that's funny. I was saying yesterday, I had this obsession about this character that's like an adult baby. Like if you see a baby do something like that, it's so warped and weird, but there's something creepily hot about it.
"So when I'm in that teddy bear suit, I'm like a creepy, sexy baby. But I forget that it's, like, people in Kansas watching the show. That people sit their kid in front of the TV and are like, 'Oh, an awards show! Let's watch.'"