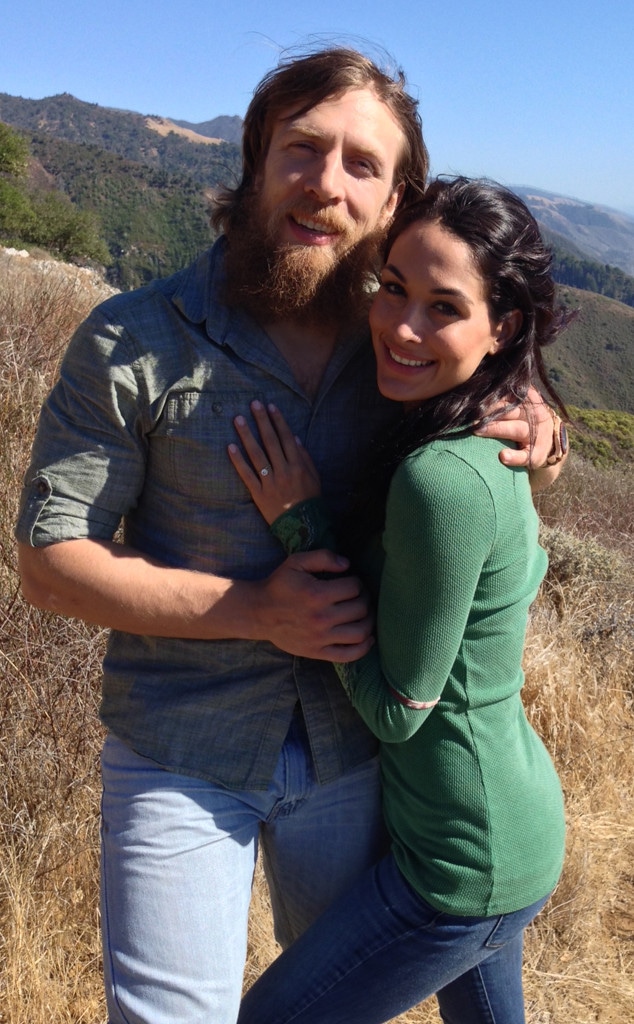 YES! YES! YES!
Total Divas star Brie Bella and WWE Supsterstar Daniel Bryan (Bryan Danielson) tell E! News exclusively that they are engaged to be married!
The couple have been together for almost three years now and Daniel popped the question on Wednesday, Sept. 25, while they were on a hike in Big Sur, Calif.
The former WWE Champion is used to performing in front of millions of people on live television, but none of that prepared him for this big event.
"I have never in my life seen him so nervous. I've been by him when he's gone out for WrestleMania and some really big things," Brie revealed. "He got really, really nervous and he started talking about how long we've been together. He got down on one knee and compared our love. He said he'll love me forever like the ocean goes on."
How adorable is that?!
The couple has kept the engagement a tight secret by only telling family and close friends. We wanted to know how Brie's WWE Diva sister, Nikki Bella, reacted when she got the news!
"Nikki was over the moon happy for me. I could just see in her eyes that she's just so happy for me," Brie said. "I think she's excited to plan the wedding because she'll be my maid of honor. She's already talking about the bachelorette party." (We'd expect nothing less!)
Bryan said he has been waiting a while to finally take the big step. "I've had the ring for a long time. Just trying to find the moment that fits," Bryan said. "A moment that's worthy of Brie."
Speaking of the ring...we got all the juicy details!
"It's an old, vintage European diamond. It's 1.5 carats," Brie revealed. "It really fits how Bryan and I are with nature. It's elegant and dainty. It's exactly what I wanted."
The ring was purchased from Ken & Dana Design in New York. Brie and Bryan designed it themselves. They purchased this particular ring because it's an eco-friendly, conflict-free diamond.
Brie is hoping to set a wedding date between April and June of next year and they're going to work it around their crazy schedule.
Not only did Bryan surprise her with a proposal, he did something even bigger!
"He flew out my whole family and his family and surprised me for an engagement dinner," Brie explained. "That was probably the most special thing anyone has ever done for me."
The cameras were rolling when Bryan got down on one knee and we'll get to see the huge moment on Total Divas!
"When you're older, the things you tell your group of friends is about how your husband proposed, how your wedding went and the birth of your children," Brie gushed. "I'm happy that the world gets to see the moment I'll be talking about for the rest of my life."
And we can't wait to see it! Congrats to the happy couple!
You can watch the whole proposal when season one of Total Divas returns with six NEW episodes beginning Nov. 17 at 9 p.m. on E!