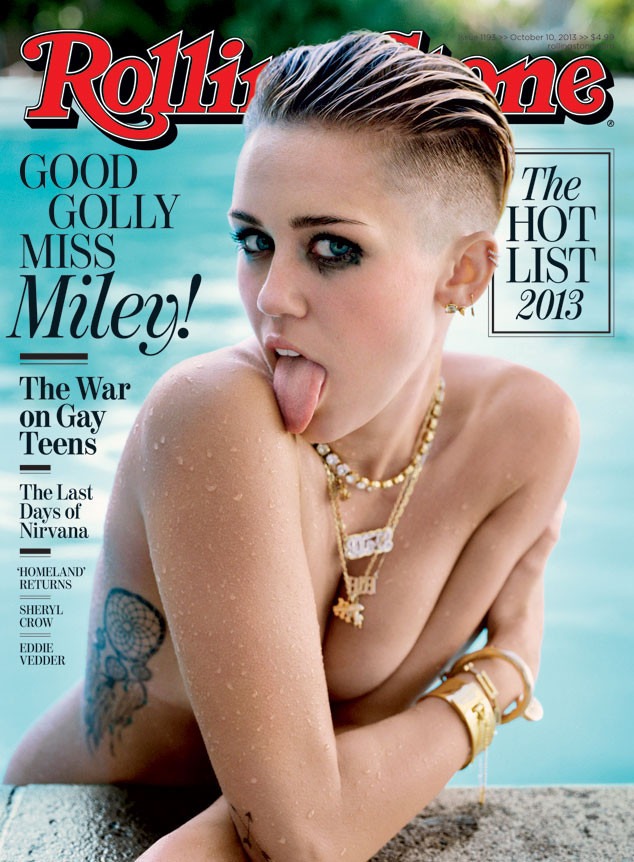 Rolling Stone Magazine
As if we didn't know already, Miley Cyrus is officially out of the cannabis closet.
In her heavily hyped cover story in the Oct. 8 issue of Rolling Stone, the "Wrecking Ball" singer does yet another bang-up job putting her Disney princess past behind her as she dishes candidly about her drug use and reveals how much she enjoys smoking pot.
"I think weed is the best drug on earth. One time I smoked a joint with peyote in it, and I saw a wolf howling at the moon," the 20-year-old Cyrus tells the magazine.
Or perhaps a bunch of oversized stuffed animals à la her infamous VMAs performance?
As for any harder substances she's run across amidst the high-flying, celebrity environs of L.A., the twerk queen confesses she's dabbled in cocaine, but isn't a fan, while also hinting she's tried molly, aka ecstasy.
"Hollywood is a coke town, but weed is so much better. And molly, too. Those are happy drugs—social drugs," she explains. "They make you want to be with friends. You're out in the open. You're not in a bathroom. I really don't like coke. It's so gross and so dark. It's like what are you, from the '90s? Ew."
During the sit-down, Cyrus also sounds off on some weightier subjects, like the civil rights struggle of the 1960s and how times have changed over the last five decades, including the advent of gay marriage.
"When my kids are around, there will be no one on this planet who was alive when there was segregation. Like, my grandma was around when there was real segregation, when there was no intertwining," Cyrus remarks.
She continues: "For her, for someone that was born in the '30s, it's kind of shocking to have a black president. My grandma didn't have a f--king phone even in her house. It was like Gone With the Wind. Calling long distance was like the craziest s--t ever. Now my grandma's like, 'What do you mean you can watch a video on your phone?' It's gonna be the exact same thing with my kids: 'What do you mean gay people couldn't get married?'
And Cyrus also spills on another drug of sorts—her relationship with fame and how much she loves the attention it's brought her ever since her Hannah Montana days.
"I said I was going to take a year off before I made this record. But it's hard to take a break. It's almost depressing when you're not working. You're so used to people calling your name, and that energy, and when you don't have it anymore…That's why I never complain about people wanting autographs or pictures," says the popster. "Because if there were a few days where no one asked, I'd probably be like 'What the f--k's going on? Do people not like me?'"
As for those pesky photographers trailing her every move, Cyrus suggests that while she's no fan, they're a necessary evil if she wants to stay in the spotlight.
She admits: "I hate the paparazzi—but when they're not sitting there waiting for you, you're like 'Who's bigger news? Who are you trying to get a picture of?'