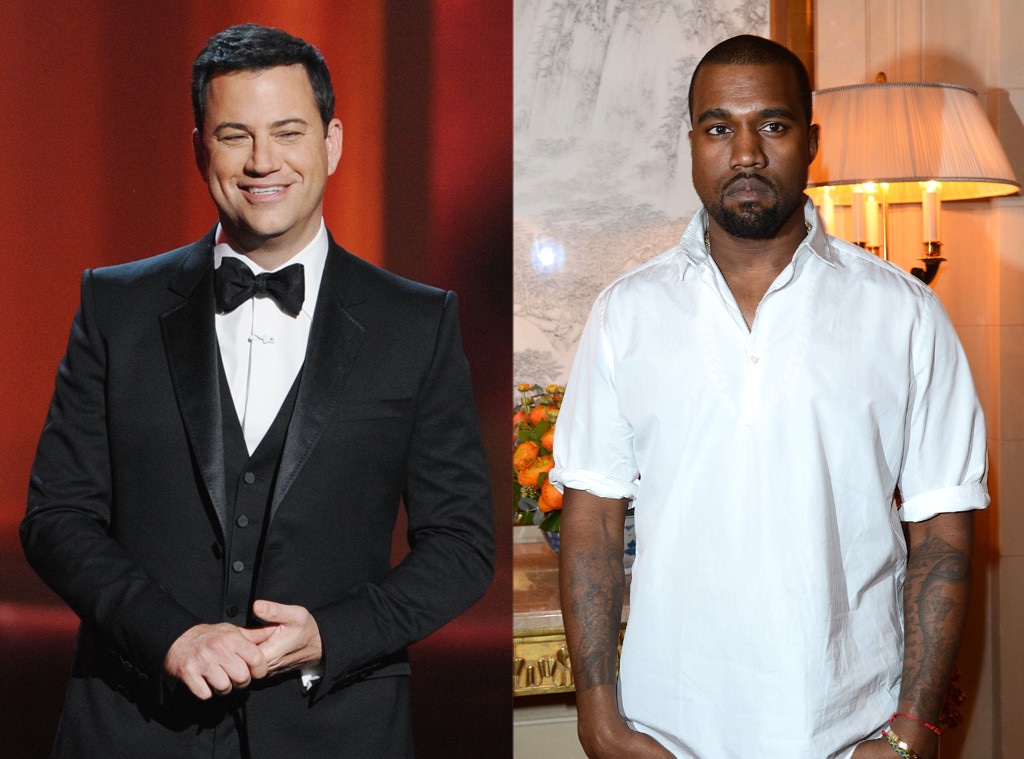 ABC/TODD WAWRYCHUK, Venturelli/WireImage
Epic Twitter feud alert! (Or epic prank alert! It remains to be seen.) But if it's real...
Kanye West apparently saw no humor whatsoever in Jimmy Kimmel Live's recent parody of the lengthy, in-depth interview the rapper gave to BBC's Radio One, in which he referred to himself as the "No. 1 rock star on the planet" and delved into various personal topics.
Or, as Kanye put it in his first of many tweets, the "FIRST PIECE OF HONEST MEDIA IN YEARS."
"JIMMY KIMMEL, I DON'T TAKE IT AS A JOKE... YOU DON'T HAVE SCUM BAGS HOPPING OVER FENCES TRYING TO TAKE PICTURES OF YOUR DAUGHTER," he continued. "YOU CAN'T PUT YOURSELF IN MY SHOES. YOUR FACE LOOKS CRAZY...IS THAT FUNNY?...OR IF I HAD A KID SAY IT WOULD BE FUNNY???"
Well, yeah! The spoof that angered Kanye featured a pretty adorable little boy reciting actual snippets of the artist's interview while fiercely sipping a milk shake in between sound bites.
"I brought the leather jogging pants six years ago to Fendi, and they said 'no'!" little Kanye exclaimed in the "Kanye Kid Re(Kreation)." "How many [bleep] you seen with leather jogging pants? Where the culture at? Where is the culture at?!"
Kanye continued to not laugh.
"SHOULD I DO A SPOOF ABOUT YOUR FACE OR YOU F--KING BEN AFFLECK…#NODISRESPECTTOBENAFFLECK #ALLDISRESPECTTOJIMMYKIMMEL!!!!" he went on. (The Affleck sentiment was actually posted twice at first, and then one of them was deleted. So there was time for copy-editing, apparently.)
Instead, Kimmel appeared to fully enjoy reaping what he had sowed.
"apparently @KanyeWest is VERY VERY ANGRY with me...." the funnyman tweetedwhen he first got wind of Kanye's rant. "if it's not too much trouble @kanyewest, would you mind using @jimmykimmel ? Thanks"
And Kanye didn't let up. In fact, it was all downhill from there.
"I LIKE YOU, YOU KNOW ME, I WENT TO YOUR FAMILY'S WEDDING," he added, to which Jimmy replied, "I like you too! Glad we cleared this up."
"WHO YOU MADE IT CLEAR TO ME WASN'T YOUR FAMILY WHEN I WAS ON THEN PHONE WITH YOU 5 MINUTES AGO, YOU MANIPULATIVE MEDIA MUTHERF---ER," Kanye continued.
Kimmel then swatted back with, "I know! #WreckItRalph, right?!" when Kanye jabbed at him with, "SARAH SILVERMAN IS A THOUSAND TIMES FUNNIER THAN YOU AND THE WHOLE WORLD KNOWS IT!!!"
And then Kanye started tweeting pictures—one of which Jimmy duly retweeted, of course.
"I swear, @kanyewest one more of these I WILL unfollow you #warning #Goshdarnit," Kimmel wrote.
We're told that Jimmy is going to address these goings-on in his monologue tonight. Stay tuned for what's sure to be a really great explanation of something.