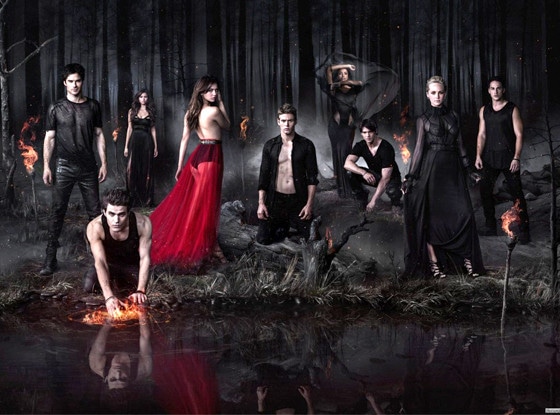 Nino Mu–oz/The CW -- © 2013 The CW Network, LLC. All rights reserved.
Prepare for some Thursday night delights!
Oh, how we long for Thursday's Fall TV offerings, which is why we're featuring scoop on some of our favorite series that air that night: Not only do we have scoop on fan favorite couples from The Vampire Diaries and The Big Bang Theory, we've also included spoilers on a Scandal character's mental state, as well as Parenthood premiere deets.
Don't worry, we didn't forget about the other days that end in "Y" either: We've also got scoop on Game of Thrones, Mad Men and more. So what are you waiting for? Dig in!
Charles: The Mindy Project is on fire this season! What's coming up?
Racism! No, seriously. Schulman & Associates' docs are accused of being racists and must bring in a PR guru to help their image. The person in most need of training (and who caused the whole fiasco)? You guessed it: Danny.
xPepperssPotts: Is there any hope for Caroline and Tyler??? #TVD
Shockingly enough, It's kind of hard to be in a relationship when only one person actually appears on screen! Tyler doesn't show up in the premiere, but Caroline still only has eyes for him; she even completely (and hilariously) rebuffs a cute frat guy. But we will tell you Tyler will cause our favorite blonde vamp to cry and we totally want to punch him in his werewolf junk for it.
Dana: Only one week until my date with Olivia Pope, so I'm in dire need of Scandal scoop!
Mellie is no longer America's Sweetheart! Though the First Lady's approval ratings were always high, it seems outing your husband's affair on national TV tends to turn people off. Yes, Mellie's approval rating has plummeted…we are talking double digits, people! Expect to see Mellie get all flustered during a TV interview when she's pressed about the declining rating.
Sanna_o75: Will there be anything about if Penny will perhaps propose to Leonard this season?? #BigBangTheory
Funny you should ask! We recently caught up with the Big Bang creators Chuck Lorre and Steven Molaro on the Emmy's red carpet this past Sunday, and we asked if a Penny/Leonard engagement is in the works. Lorre explains that fans will have to wait a little bit more before Penny puts a ring on it. "That's a big step for the series and that's a big step for the couple. There's a lot of growth that can come about in both characters before we can make that move," he says. However we will get a super sweet reunion when Leonard returns from his expedition in the second episode!
Brian: Gimme that Game of Thrones scoop!
You are cordially invited to King Joffrey's royal wedding! George R.R. Martin tells us that he's prepared to top the Red Wedding, when season four premieres in 2014. "Well, we have another wedding, a bigger wedding. 77 courses and all of the royal kingdom has assembled and it's supposed to be pretty amazing," He says. "We just finished filming it in Croatia. I unfortunately couldn't attend myself because they have me chained at my desk writing the next book, but from all the reports it was spectacular."
Janelle: How about some Sally Draper scoop on Mad Men?
Well, you're in luck! We caught up with the impeccably dressed Kiernan Shipka on Sunday and she told us that Sally Draper's style is going to be getting even more rebellious this season. "Her style at the beginning, rightfully so, looked like her mother dressed he and that's how it was supposed to be," Shipka says. "But this season it looks like she is dressing herself a little bit more and getting a little bit more sassy. Her skirts have been getting shorter and shorter throughout the season."
Reneebrown84: Parenthood please????
Depending on your personal preference, this news should either make you go yay or nay: Though Ray Romano's Hank is back in town, he doesn't share any screen time with Sarah in tonight's premiere. In fact, she doesn't even know he's returned. But you can expect to see her bro Adam share a tense moment or two with Hank after he learns Max has been hanging out at his studio. Protective older brother FTW! (Also: Come back to us Mark Cyr!)
Tessa: The Modern Family premiere was amazing. I loved it! What's next for Mitch and Cam?
We can tell you that you will definitely see some serious wedding planning coming up! In an episode airing in late October, Mitch and Cam will be in full wedding-planning mode, with all the craziness that comes along (wedding planners galore). So the wedding is definitely moving forward and will be a big story arc this season.