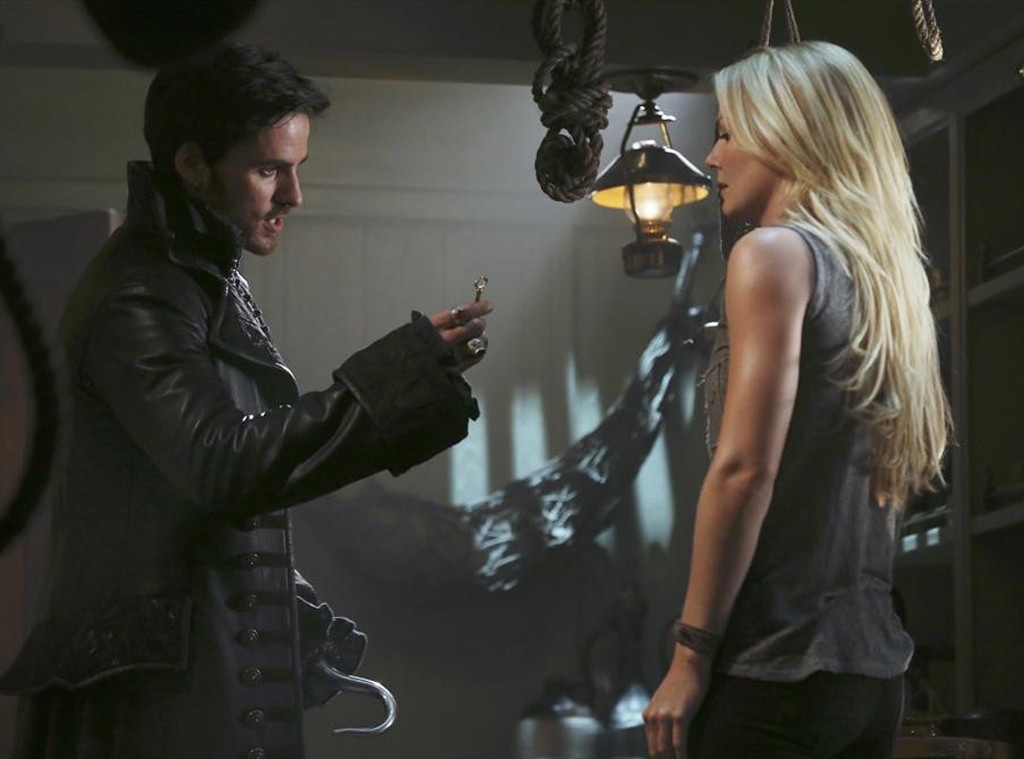 ABC/Jack Rowand
What do you get when you put a princess, a pirate, a queen, a dark one, a prince, and a savior all on the same boat? A wickedly wonderful premiere, that's what!
Season three of ABC's magical drama Once Upon a Time is just a few days away and we know that you're just dying to be reunited with your favorite fairy-tale characters. We've already traveled to the dark and dangerous island of Neverland—meaning we've seen the first two episodes—and sat down with Once creators Adam Horowitz and Eddy Kitsis to discuss the sensational new season.
Since many of you love OUAT as much as we do, we've decided to put our crystal ball away (FYI, there's one in the premiere!) and find out exactly what you want to know about season three. We've answered ten burning questions via Twitter about Once Upon a Time's heart-pounding romances, jaw-dropping twists and more!
Smolderderavin: To be honest all we want are Rumbelle spoilers :)) so if you could please get some we'll forever love you, you know.
We're all about eternal admiration! Even though our beloved Rumple (Robert Carlyle) and Belle (Emilie de Ravin) are worlds apart, that does not mean that we won't see them together. To quote Rumple, "Neverland is a place where imagination runs wild," so just keep that rule in mind in the second episode. Bonus Scoop: Their scenes together are better than we could've ever hoped for. So sweet and so caring.
EffulgentlightQ: Does our Captain get to throw some punches or is he on the receiving end?
Both! There's a wicked fight in the first episode, and waters are looking rough for our Jolly Roger shipmates. We all know that despite being ridiculously attractive, Charming (Josh Dallas) and Hook (Colin O'Donoghue) don't really have a whole lot in common and this leads to some hot alpha male struggles.   
Lukadrommi: Anything on Hook & Emma would be greatly appreciated :) Thanks!
Ahoy, matey! Do we spy a CaptainSwan shipper? Welcome aboard! As you know, Emma (Jennifer Morrison) is under the impression that Neal (Michael Raymond-James) is dead, and as you should recall, Hook and Baelfire were once very close. However, this tangled web of friendships and affections do not stop Hook from getting his flirt on at any chance he gets. Their chemistry is electric, no matter how hard Emma tries to fight it. 
RobertBordelon1: Will Regina be on her best behavior in #Neverland?
Nope! But that's why we love her. Regina's (Lana Parilla) motto always will be magic first, questions later, but that type of haughty, easy-way-out behavior is definitely not appreciated in Neverland. However she and Hook do have an amazingly sweet scene together that will make you look at villains in a whole new light.
EvilDearie12: If I can ask a question, anything about Rumpelstiltskin in the first two episodes that are not too spoiler-y?
Get ready to embrace your inner evil! The Dark One is back and just as wicked as we remember. However, Neverland is a place that makes your confront your past, and Rumple's past is much more twisted then we could ever imagine. Two words: Daddy issues.
ABC/CHRIS HELCERMANAS-BENGE
Motormouthcrazy: Can u ask them If we will hear Emma call Snow and Charming mom and dad again anytime soon
The M-word is definitely addressed in the second episode, but not in the happy way that you would hope. Kitsis says that Emma will be facing a difficult realization this season. He explains, "Emma looks at Mary Margaret (Ginnifer Goodwin) as her mom, but does she actually think of her as her mom?" It would be very strange if you were the same age as your parents…
Keyzee29: Hope for Neal and Emma??!
There's always hope! Especially because Neal is willing to do absolutely anything to get back to the woman he loves. And by anything, we mean embracing the one thing in his life that he has always tried to stay away from. Bonus Scoop: Hearing Neal explain to Mulan (Jamie Chung) how much he cares about Emma will tug on your SwanFire-loving heartstrings.
AnnKine: Some Robin Hood scoop would be great. What's his story this season? Will he get his own backstory episode?
We will see new Robin Hood (Sean Maguire) in the premiere, and guess what?—It's not via flashback! Robin Hood is one of the lucky few to have stayed behind in the Enchanted Forest post-curse has made himself quite comfortable in a castle that is filled with dark secrets. He'll be helping Neal in his quest to get back to Emma and according to the OUAT creators, he'll be getting some major screen time this season.
Don't miss the spellbinding season three premiere of Once Upon a Time Sunday at 8 p.m. on ABC!