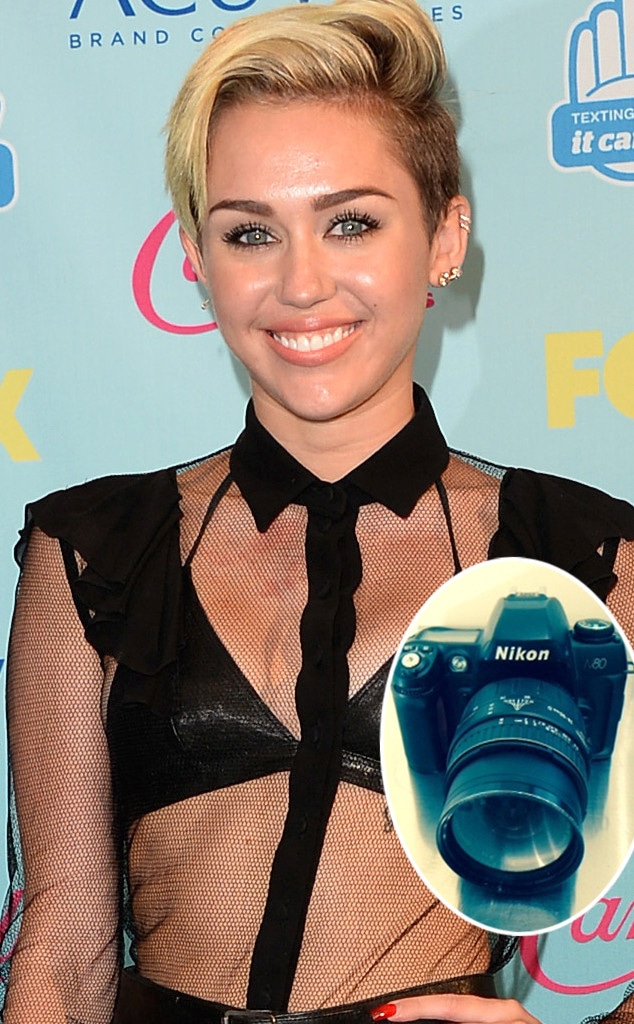 Jason Merritt/Getty Images; ebay
Turns out, Miley Cyrus has a lucrative side gig as an eBay seller. (No, seriously.)
The 20-year-old pop star—whose estimated net worth is a reported $150 million—is selling her old camera on the online shopping site.
And while the starting bid began at a very reasonable $26, the price has since skyrocketed, after Cyrus alerted her over 14 million Twitter followers that her Nikon N80 35mm SLR film camera is up for sale. 
"BUY MY OLD CAMERA!," the "Wrecking Ball" singer tweeted Wednesday with a link to the product page, although she removed the tweet from her feed minutes later.
But the deleted tweet didn't stop her loyal Smilers from heading over to eBay to start bidding on the "barely used" camera, with the top bid currently being $10,100 as the price continues to increase at a rapid rate. (There's still 6 days left to place your bids!)
While the camera probably doesn't come with any sexy selfies, it does come with a 28-90mm Lens Kit and "is fully operational and functions as intended," according to the item description.
But what's even more surprising than the starlet's eBay sale is the fact that she's been a member of the site since Nov. 2007 and has sold 16 items under the username "getit555."
Cyrus keeps her identity secret on the page, which is common for many eBay sellers, although she clearly let the cat of the bag with her latest 140 character request.
She also has 100 percent positive feedback on the site, with numerous buyers calling the pop star an "excellent eBayer" (one user did have a complaint over a shirt purchased from Cyrus back in 2010, saying the "shirt was not a women's medium, but child's size").
Still want a piece of Cyrus, but worried her camera will break your bank account?
Well, you're in luck, because the performer is also currently selling her Apple iPhone 4, with the current bid being just $61. (We're sure that number's gone up by now.)
Clearly, that product didn't get a promotional tweet.