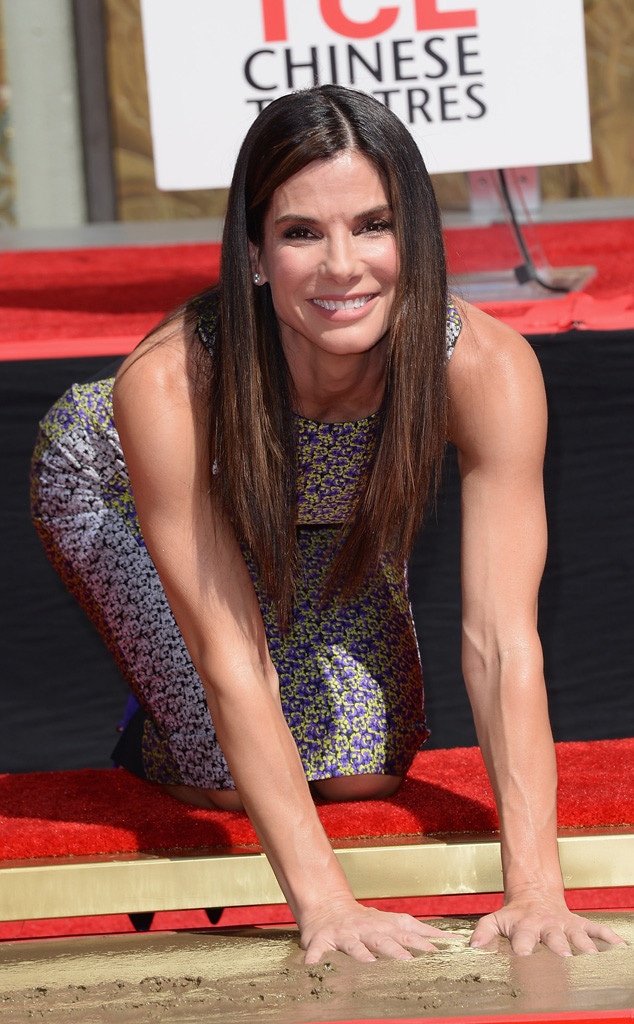 Jason Merritt/Getty Images
Sandra Bullock's No. 1 fan, her 3-year-old son Louis, lent his support to his famous mama today (and looked adorable while doing so!).
The Oscar-winning actress was honored at Hollywood's TCL Chinese Theatre Wednesday with her very own handprint and footprint ceremony, formally cementing her status as one of today's top stars in Tinseltown.
Bullock looked beautiful in a purple and green printed dress as she firmly placed her hands in the cement while inadvertently showing off her supertoned arms (seriously, girls got guns!), as she flashed a giant smile at the cameras. The brunette beauty wore her long locks down in a sleek and straight style and kept her jewelry minimal, sporting a pair of diamond studs by Martin Katz for the appearance.
Her main man was killing us with cuteness in his tiny suit and sneakers, as he watched paps snap pics of the Blind Side star while the loving parent waved to her little one.
Watch:
Sandra Bullock Stops Baby Appearances
No word yet whether Louis gave the shutterbugs his signature "stink-eye."
The 49-year-old star took a moment to chat with E! News at the ceremony, which also saw Bullock's Gravity costar George Clooney (the twosome's sci-fi flick hits theaters Oct. 4) as well as E!'s own Chelsea Handler in attendance to support their pal.
And while Louis' presence was important to Sandra on this particular occasion, the protective parent said she won't be exposing her child to any further Hollywood events.
"Oh no events, no events. He doesn't want to be here, he doesn't go to any other events," the mother of one confessed to E! News. "This is the only one that I thought would be sweet for him...the people that you follow, literally, in their hands and footsteps are pretty amazing. And it's something that he can enjoy later on in life. He doesn't like it, but I thought if he remembers himself here and he sees some photos that we all took, it'll make him happy in the long run."
Jordan Strauss/Invision/AP
"Embarrassed now, happy later on," she added.
Too cute! But despite the historical significance of the ceremony, Bullock admitted her son doesn't quite understand mommy's job.
"Not at all, no idea, he thinks it's ridiculous," she said. "He just thinks mommy builds houses, I'm always tearing down a wall and he thinks that I'm in contruction. Because I pretty much am."
Watch:
Sandra Bullock Dishes on Pal George Clooney
From a construction worker one day to a superhero the next, it seems that Sandra's most important—and rewarding—role is being a mom.
For more from Sandra's hand and footprint ceremony, including George Clooney's advice for his costar, be sure to watch E! News tonight at 7 p.m. and 11:30 p.m.!