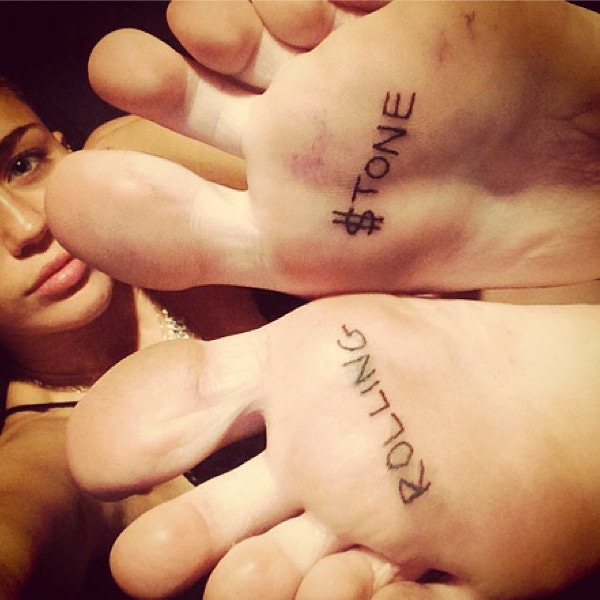 Instagram
Miley Cyrus commemorated her first-ever Rolling Stone cover by getting "Rolling $tone" tattooed on her feet. Ouch! The "Wrecking Ball" singer, 20, shared a snapshot of her latest body art via Instagram on Tuesday, Sept. 24. "#rattatattat @RollingStone," the pop star captioned.
In the magazine's Oct. 8 cover story, Cyrus takes contributing editor Josh Eells to a tattoo parlor. The idea came to her, she says, after she began brainstorming "fun" things they could do together. "I thought about going to play laser tag, but laser tag sucks," she explains. "And we could have gone bowling, but what are we, 90?"
A bald tattoo artist named Mojo worked on Cyrus, who got her first tattoo at age 17 in 2009. "People get tattoos of the most f--ked-up shit," she tells Rolling Stone. "Did you know Alec Baldwin has Hannah Montana's initials tattooed on him? No, wait—Stephen Baldwin. He said he was my biggest fan, and I told him my biggest fans have tattoos. So he got 'hm' tattooed on his shoulder."
Upon further reflection, Cyrus shakes her head and says, "People do f--ked-up shit."