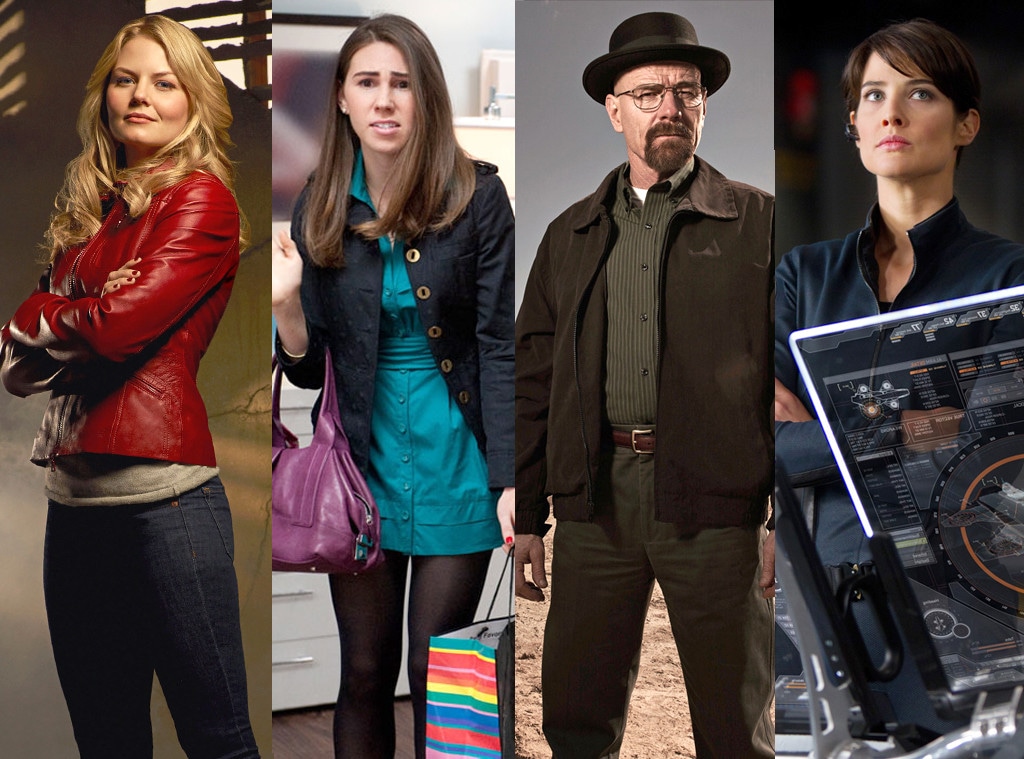 ABC/AMC/HBO
We know that all you want to do is curl up on your couch, grab some popcorn, and watch your favorite TV shows.
Sadly it's a Wednesday morning and you have to endure an entire day's worth of [insert your job here] before being reunited with your sweatpants. Sigh.
To help make your day a little bit better, we've snagged scoop on seven of your favorite series in today's edition of Spoiler Chat. Prepare yourselves for Breaking Bad series finale spoilers and a magical flashback on Once Upon a Time. Plus, Nashville, Girls, Sons of Anarchy and more…
Lorena: Love S.H.I.E.L.D. already, but I'd love it more if Cobie Smulders, aka Agent Hill, would stick around. Got any scoop on that?
Smulders told us she does appear in more than one episode this season, as well as hinted that she could be a series regular in season two after that other show she's on is done. Or she could just mash up both roles to make How I Met Your Superhero. We'd watch that show.
Chad: I hate knowing that there is only one episode left of Breaking Bad. What can you tell us about this Sunday's series finale?
We're sorry that you're sad. (We're pretty devastated too!) To help cheer you up, we'll let Bryan Cranston answer that question for you. "[Breaking Bad fans] should expect that we will be very protective of our show and it's going to end in a very Breaking Bad manner, unapologetically. It's going to be satisfying to all the fans." At the Emmy's red carpet on Sunday, Cranston told us that despite Walt's checkered past, he's rooting for a happy ending. "I love Walter White!" the star exclaimed, "I inhabit the man and he inhabits me."
Alex96401212: Can we expect a lot of flashback about Emma's past in Once Upon a Time? We want to see more of that.
Then you definitely won't want to miss the first two minutes of Sunday's season premiere! Fans will be treated to a very special Emma-centric scene in which we flashback to 11 years ago. Hmm… interesting. Isn't Henry 11 years old? What a magical coincidence! And speaking of magic, let's just say that Emma's powers have been with her long before her trip to Storybrooke. Check back to E! Online for more Once Upon a Time spoilers later this afternoon!
Tess: Sons of Anarchy continues to get better and better! What's next?
The death of some characters. Some may call them "minor." We'll let you decide once you see it. Also, get ready for a shanking scene!
1RASCALFLATTfan: Any Nashville news? #SpoilerChat
If you mean the city, we hear it's quite a lovely town! But if you're talking about the ABC musical hit, then be prepared to witness a miraculous recovery. Connie Britton tells us that Rayna James won't let a devastating car crash keep her from the stage. "Rayna goes through a rough patch at the beginning, but she does make a pretty great comeback," Britton says. "I'll be excited when that happens and I hope fans will love it." As for her friendship (and we use that term loosely) with Juliette, Britton says that they two women will continue to have a "complicated dynamic" but she is looking forward to seeing the characters evolve.
Alyssa: Desperate for some hot Chicago Fire scoop! See what I did there?
We did see, but we're going to ignore it. The season-two premiere picks up a couple months after the season-one finale, with Casey trying to rally the firehouse so they can avoid getting shut down. As for Severide, he's going to enjoy some [spoiler] sex!
ANNmightsay Girls is returning in 2014 I know that. But can you give us a more accurate date? At least the month!!
Unfortunately HBO is being very hush hush on when our four NYC twentysomething's will be returning to our TV screens, but that didn't stop Zosia Mamet from filling us in on what's coming up! Now that Shoshanna is no longer with Ray, she's ready to find out what hooking up is all about. "She's just kind of goes even harder in the embracing of her single lady-ness," Mamet dishes to us. "I think she really takes Beyoncé's song to heart and is kind of throwing underwear to the wind, to coin a phrase." Hooray for slutty Shoshanna!