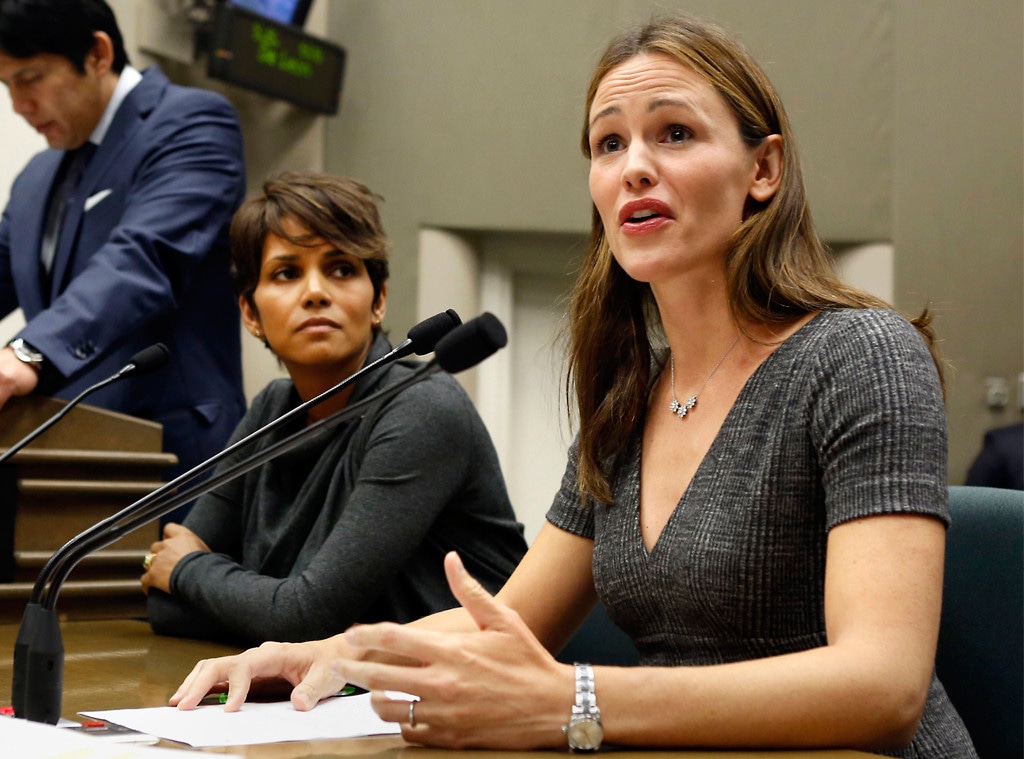 AP Photo/Rich Pedroncelli
Celebrity parents have cause to celebrate in California today.
A bill meant to deter paparazzi from getting too close to the children of famous folks was signed into law by Gov. Jerry Brown in Sacramento.
Both Halle Berry and Jennifer Garner had testified on behalf of Senate Bill 606, which increases the possible punishment for harassing celebrity kids—and clarifies the legal definition of harassment in such cases.
Now, according to the office of state Sen. Kevin de León, who sponsored the bill, harassment includes "conduct in the course of the actual or attempted recording of children's images and/or voices, without express parental consent, by following their activities or lying in wait."
Meanwhile, transmitting, publishing or broadcasting a child's image and/or voice does not constitute a violation.
Now, if shutterbugs are convicted of harassing a minor who has been targeted based on his or her parent's employment (i.e. famous actor, singer, personality, et al.), they can spend up to a year in jail instead of the previous maximum six months, and be fined $10,000 for their first violation, $20,000 for their second and up to $30,000 for their third.
"Kids shouldn't be tabloid fodder nor the target of ongoing harassment," de León said in a statement. "SB 606 will give children, no matter who their parents are, protection from harassers who go to extremes to turn a buck."
The law also makes it easier for a parent or legal guardian to sue a pap for damages over an incidence of harassment.
Berry has been seen more than once giving photographers a piece of her mind when they've come too close to comfort to her and daughter Nahla.
"I started this fight with a great deal of hope and a bit of uncertainty so I cannot express my immense gratitude that Gov. Brown has recognized, and acted to remedy, the plight of children who are tormented because of the identity or prominence of their parents," the star said in a statement. "On behalf of my children, it is my hope that this is the beginning of the end for those overly aggressive paparazzi whose outrageous conduct has caused so much trauma and emotional distress."
The Oscar winner also thanked her legal team and some fellow famous moms who threw their support behind the bill.
"I am forever in awe of the support I got within my community from the enormously talented musician Adele to fellow actor Jennifer Garner who traveled with me to Sacramento to share her children's stories, experience and her desire to give them a better life," she continued.
"I'm grateful to Nia Vardalos and the numerous parents who work as actors, musicians, as well as professionals in medicine, mental health, lawyers, judges and cops who have experienced their children being harassed, tormented or otherwise put in dangerous situations due to their parent's profession and therefore lent their support. It is for all of us that I rejoice today and hope that this fight will continue and that the proper enforcement of this law will truly make a positive impact on the daily lives of all children."
Garner said while testifying before the California State Assembly Committee on Public Safety last month that, while she chose by way of her career to have a "public life," her three children with Ben Affleck are "private citizens."
"They're beautiful and sweet and innocent, and I don't want a gang of shouting, arguing, lawbreaking photographers who camp out everywhere we are all day, every day, to continue traumatizing my kids," the Dallas Buyers Club star said.
Garner recently turned the tables on a paparazzo, stopping to snap a pic of him with her phone when he stopped to shoot video of her and her kids at an L.A. farmers market.