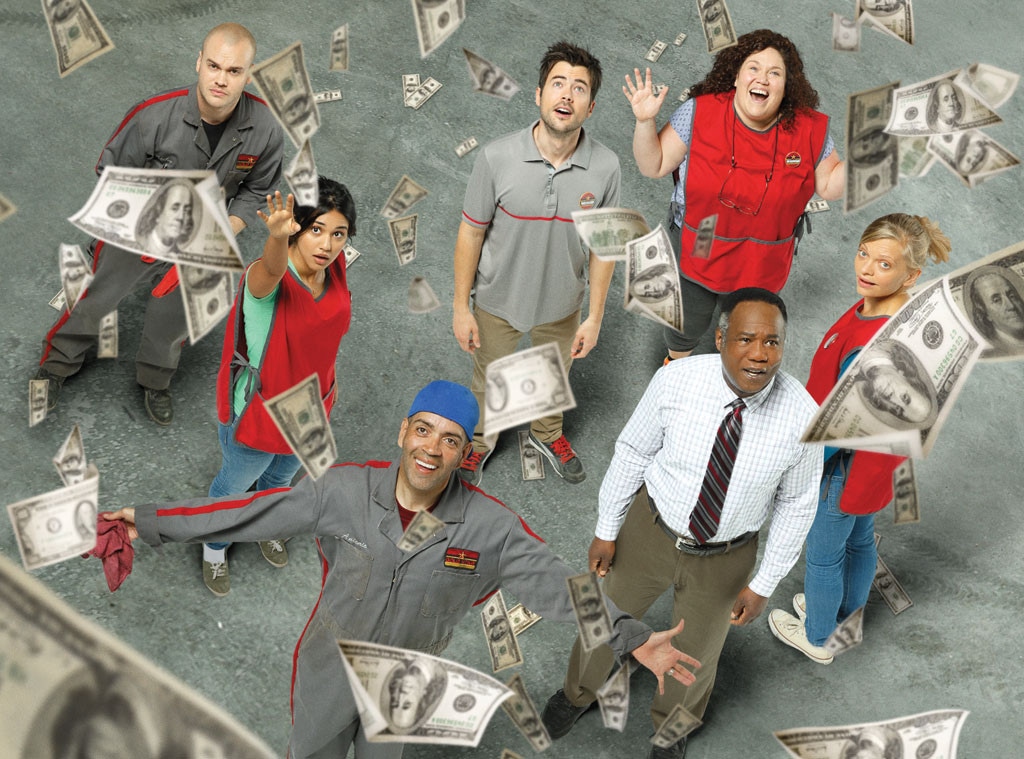 ABC/Bob D'Amico
Joss Whedon's Marvel's Agents of S.H.I.E.L.D. is arguably the best new drama this fall. So that other new ABC drama that scored the same premiere night as S.H.I.E.L.D. must be incredible too, right?
Meh.
Turns out that show is just Lucky 7. (Ba-dum-bump.) To help you decide which of the many new series debuting this fall are worth your time, we're reviewing all of the five network's newbies, and we've got gathered up everything you need to know about ABC's new drama premiering tonight that isn't S.H.I.E.L.D...
Lucky 7 (ABC)
Premieres: Tuesday, Sept. 24, 10 p.m.
Competition: Person of Interest (CBS), Chicago Fire (NBC)
Cast: Summer Bishil, Matt Long, Lorraine Bruce, Alexandra Castillo, Christine Evangelista, Stephen Louis Grush, Anastasia Phillips, Luis Antonio Ramos, Isiah Whitlock Jr.
Based on a British series, Lucky 7 follows a group of Queens, N.Y., gas station employees who win millions in the Mega Lotto. We flash backward and forward (like Lost, but honestly, even as we are typing that we are cringing at the so-not-the-same comparison) to see how their lives, personalities and relationships have been radically changed by the moolah.
While the premise is benign and mildly intriguing, it's also not really unique enough to make Lucky memorable. The producers have tried with jumpy, shaky camerawork to make the show seem more cutting-edge, and the dialogue isn't bad, but you just aren't really left with a deep craving for more.
It's a shame, too, because the casting is solid, and Lorraine Bruce, the only British actor imported from the British version, gives perhaps the best standout breakthrough performance of any show this fall. She plays an overweight cashier with a chipper disposition and a cheating bastard for a husband. (Note to anyone in doubt: There is no reason your significant other should be texting "the cable guy" 30-plus times a day.) If there is any reason we'll keep watching, it's really only for Lorraine's breakout scenes and to see what we hope is a dramatic comeuppance for the jerky spouse. But we would much prefer it if someone could just create toss those short scenes together in a few Vine videos for us.
Verdict: DVR it. You could do worse. But you certainly could do better.
Our Review in .GIF Form: