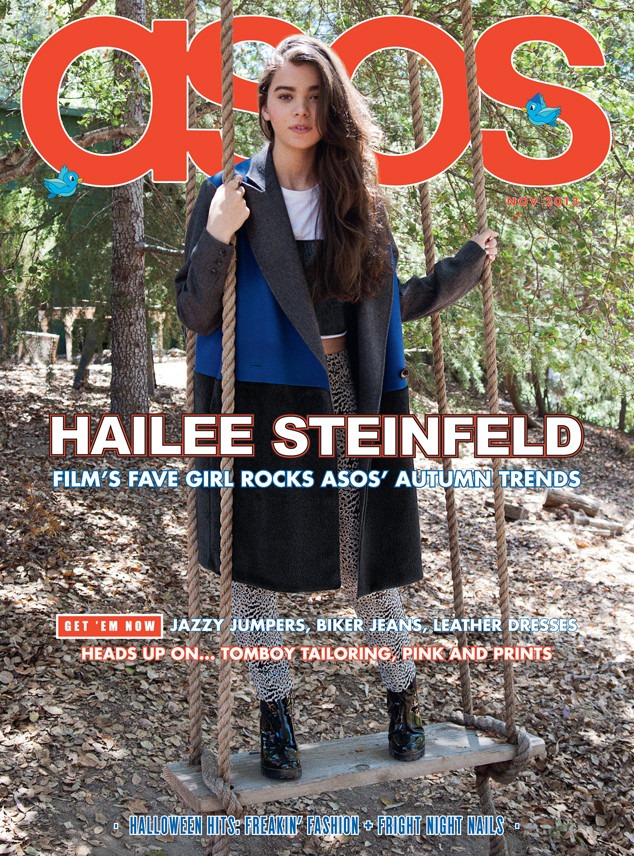 ASOS
At the ripe age of 16, Hailee Steinfeld already has the world in her hands thanks to her incredible talent, striking good looks and approachable charm.
Her True Grit role first launched her career to stardom, and now the red carpet regular is ramping up to promote her lead role as Juliet in Romeo & Juliet, as well as starring in the upcoming film Ender's Game quickly thereafter.
Not too shabby!
And when she's not busy filming or making the rounds at Hollywood events, the gorgeous teen can often be seen posing for glossy fashion magazines and showing off her edgy-yet-adorable personal style.
We've snagged exclusive images from her latest spread with Asos magazine, which won't debut until October, and we have to say, they couldn't have picked a cuter cover girl!
She poses in a rustic outdoors setting wearing a range of chic fall looks, all by the popular e-commerce retailer.
From funky patterned sweaters and textured trousers, to flirty sweater skirts, color blocked overcoats and tough ankle booties, each outfit has a distinct vibe to it, and Steinfeld masterfully pulls it all off.
She's sophisticated well beyond her years!
And best of all, the young darling hasn't let all of that fame get to her head one bit.
In an interview with the magazine, she explains how her acting career first took off. 
"It just became this thing where I said 'I want to do that' just as the week before I'd say 'I want to play basketball'...I went to classes for a year and loved it and got an agent. Before I started acting, I could never find anything I was satisfied with, but I think with acting, the fact that I'm constantly doing something different...every bit is so exciting," she says.
And of course, now that she's happily adjusting to the spotlight, Steinfeld  has also pushed her style choices to reflect her fondness for fashion. 
"Fashion is something I've always been interested in...I used to watch the Oscars but paid no attention to the awards...It wasn't until I started attending red carpet events and was flown out to Paris for my first show, and saw how much is put into it all, that I had this new appreciation for everything. Now it's become a huge part of my life."
And it shows!