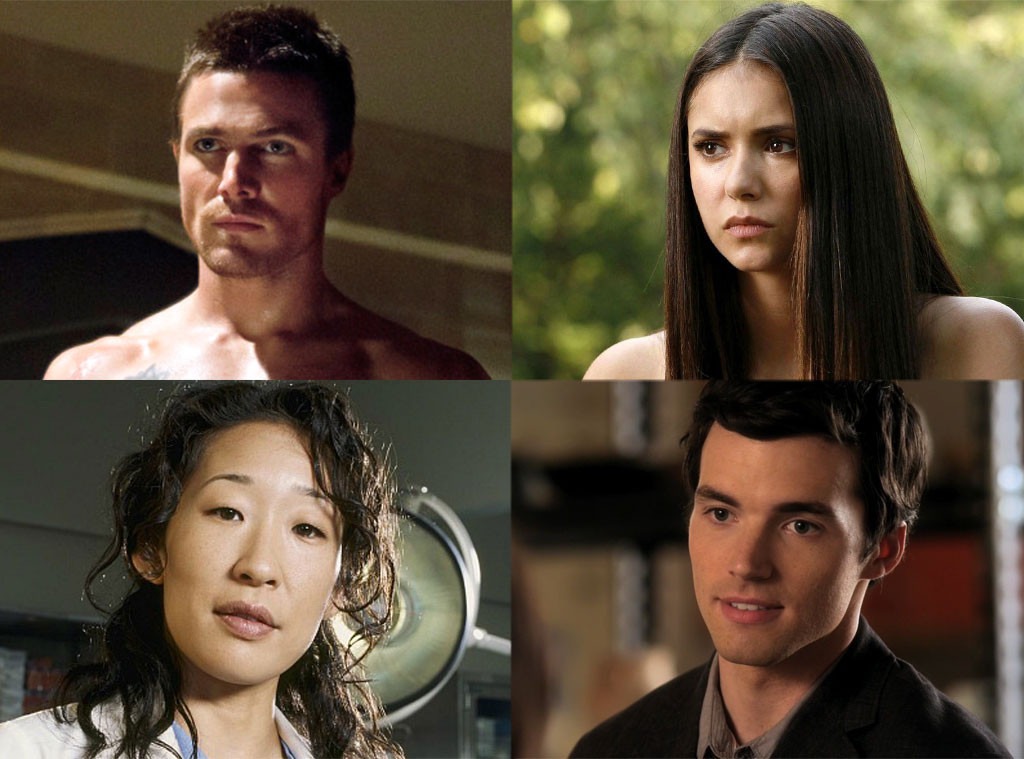 Mmmm...so scoopy!
That's what you'll be saying after sipping on today's edition of Spoiler Chat, which features a bunch of spoilers on your favorite series. Not only do we have premiere scoop on a Vampire Diaries fan favorite and the supernatural monster coming to Grey's Anatomy (yes, really), but we've also included details on Arrow's new baddies and a new [spoiler redacted] on Pretty Little Liars that probably won't receive a warm welcome from Fitz fans. Plus, there's scoop on Community, The Mindy Project and more...
Calvin: Do you have any idea when Red John will be revealed on The Mentalist?
Well, episode seven is titled "Red John." Make of that what you will.
Reese in Denver: Grey's scoop?
Are you by any chance a fan of werewolves? Then you'll be quite happy with an upcoming episode, where a patient will honestly and whole-heartedly believe that he was attacked by a werewolf. We're talking full-blown crazy, begging Dr. [Spoiler] to call the FBI and move him into a quarantined area. Since the doctor treating him is a big skeptic, the situation goes from annoying to dangerous fairly quickly.
Beth: Still in denial over Ezra being bad on PLL! What's going to happen next?!
Prepare yourselves, 'cause Rosewood High is currently in the market for a new substitute teacher. Yes, the ABC Family hit is casting a pretty new sub in her 40s, so it looks like Ezra may once again be losing the title of Hottest English Teacher on TV. The ep's title, by the way? "She's Come Undone." Could that be in reference to our dear Aria?!
csi89grl: Even though she's human, I'm hoping Katherine is still her smooth-talking, stiletto-walking bitch self?
"Do you know how hard it is to run in heels?" Though our survivor is now human on The Vampire Diaries, she's still Katherine Pierce. But because of her less-than-stellar people skills, Katherine is going to be forced to rely on a familiar face for protection from some pretty big enemies.
Zoey: The Mindy Project was hilarious. I especially loved Jeremy eating shredded cheese straight from the bag. How long will he be packing the extra pounds?
Longer than Ed Weeks originally thought! "Initially, it was episode five. Now it's episode 11," he tells us. "We'll see. I think we find it funny. I think they think it adds another dimension to Jeremy." So did Weeks get to eat junk food and give up working out for a while for the storyline? Nope! "It's a onseie. It's a padded onesie with some requisite gaps for physical necessities, which is lucky. I've got a padded tush for the first time in my life!"
Jeff: How about some scoop on my favorite new show from last year, Arrow? What can we expect when it returns?
Even badder baddies! "Craziness, mayhem. We're taking it up a level. Season one ended with literally a bang and this is going to get even bigger," David Ramsey teases of what's to come in season two. "A lot of bad guys, Bronze Tiger, Black Canary, a lot of stuff is going to happen. All the bad guys in season one, if they were nine, this season they're 12."
Cynthia: Parenthood comes back this week ! Finally! Any scoop?
Shocker: Prepare for lots of crying. Crying on Parenthood?! Must be Thursday. But really, Crosby and Jasmine are in for it when they welcome their bundle of joy, as Joy Bryant teases, "It's gonna be totally crazy, like it is, I think. I mean, I don't have kids myself, but I think it's pretty crazy, getting used to that regime and schedule and waking up in the middle of the night and all that stuff." After seeing the premiere we can tell you that it's not going to be smooth sailing for these newbie parents!
Julia: Make with the Community spoilers and no one gets hurt.
We don't respond well to threats. But just in case, here's what we got: Shirley's kids will be back in episode five of the new season, and this time…they'll be signing. And they'll be great! Perhaps a musical episode is on the way?