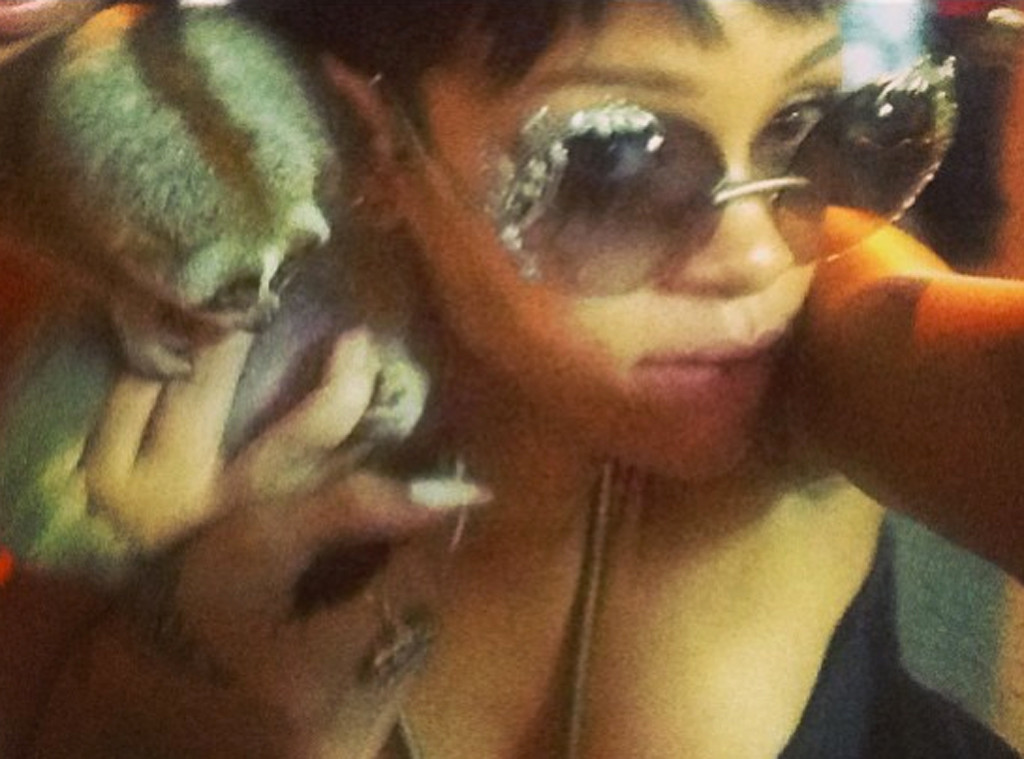 Instagram
She may be a bad girl, but Rihanna's inadvertantly done some good—at least when it comes to the protection of exotic species.
While stopping Friday in the island resort paradise of Phuket, Thailand, on her Diamonds world tour, RiRi took a selfie holding a slow loris and posted the photo to her Instagram page with the caption, "Look who was talkin dity to me!"
Little did she realize, however, that she'd be aiding local authorities who arrested two young men Sunday night for violating a law prohibiting Thai citizens from charging tourists money to take photos with the adorable but endangered primate.
According to the Phuket News, after Rihanna's pic went viral with more than 232,000 views, officials from the country's Ministry of Natural Resources began investigating, at the urging of animal welfare groups, and a police raid turned up two suspects, 20-year-old and 16-year-old males, who were taken into custody.
The men could face up to four years in prison and big fines while the cute critters in their possession will be returned to a national park in Phang Nga.
The slow loris, which is native to Southeast Asia, has seen its numbers dwindle dramatically since the 1960s due to deforestation and the wildlife trade. Many of the animals seen in markets often have high mortality rates due to abuse suffered at the hands of their keepers, who routinely pull their front teeth out with pliers to avoid their toxic bite.
Hence, wildlife's conservation groups were concerned that such pics put online by Rihanna could increase the danger to the protected species.
Along with the slow loris, the Barbadian singer uploaded an Instagram shot of her feeding elephants, writing, "They all hail Empress when she walk by."
Additionally, Rihanna posted a few NSFW tweets about taking in an X-rated sex show in Phuket's red-light district, which per the Bangkok Post, also raised eyebrows among law enforcement officials who noted such shows were against the law.
Needless to say, after partaking in the Thai nightlife, Rihanna's global trek has since moved on to Singapore, after which the "Disturbia" star will head Down Under for a series of dates in Australia.
Hopefully, she'll stick to taking selfies of nonendangered species…like the koala?!