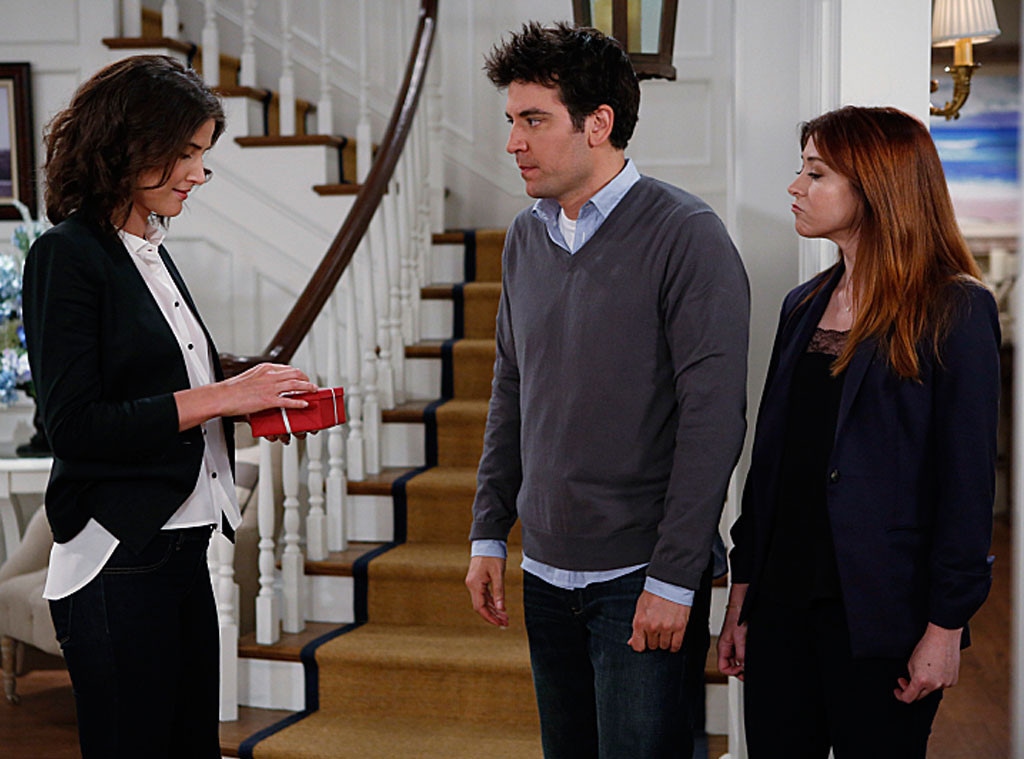 Cliff Lipson/CBS
It's finally here!
After getting a quick glimpse of The Mother in May's season finale, we've waited months and months to learn more about Ted's mysteriously perfect woman. And tonight's final season premiere of How I Met Your Mother is going to give us plenty of answers!
We've already presented you with nine reasons why fans will love the premiere, as well 16 unanswered questions that need to be solved by the end of HIMYM's final season, but we've got another handy-dandy article for all you! To make sure you are all caught up before the final season, we've created the ultimate How I Met Your Mother cheat sheet, packed with past and future tidbits that you need to know before tuning in tonight.
Where We Left Off:
• Just as Lily (Alyson Hannigan) and Marshall (Jason Segel) were preparing to move to Italy for Lily's dream job, Marshal got a once-in-a-lifetime phone call while at his mom's house in Minnesota. The Good News: Marshall has been offered his dream job of being a judge in NYC. The Bad News: He would have to start in a week, which means that someone's dreams will definitely be put on hold. Marshall then accepts the job without consulting Lily. Ruh-roh!
• We learned via flashback that Robin (Cobie Smulders) drunkenly dug up her locket when Ted (Josh Radnor) was set to marry Stella (Sarah Chalke), figuring she wouldn't need it again. Unknown to Robin, the locket ended up in Ted's apartment in the little race-car pencil box.
• At the end of least season, Ted was at the lowest low that we have ever seen, and he made a huge decision: After the wedding, Ted is planning on selling his house, and moving to Chicago, ("It's like a Cleveland-y New York!") because he doesn't think he can be in the same city as a married Robin. Lily is the only one who knows of Ted's plans to leave.
What Lies Ahead:
• In an attempt to shield Lily from discovering the truth about his judgeship, Marshall ends up stranded in Minnesota with no way of flying to New York in time for the wedding. He's forced to team up with a rude, and manipulative woman named Daphne (Sherri Shepherd) in order to get himself (and little baby Marvin!) to Farhampton. And he only has 54 hours to do so!
• We find out that the circumstances behind the locket become even more confusing and crazy then we originally thought. But you know who is confusing and crazy? Ted is. And as we all know, he will go to extreme lengths for the women he loves. 
• In an exciting surprise, fans will get to know a ton of information about The Mother! From the nickname that she eventually gives Ted, to her kickass baking skills, and her ability to sooth even the most stressful of situations, The Mother is practically perfect in every way. Plus, we've said it before and we'll say it again, do not miss the last three minutes of tonight's premiere. We cried and it was glorious.
Watch the special one-hour season premiere of How I Met Your Mother tonight at 8 p.m. on CBS!