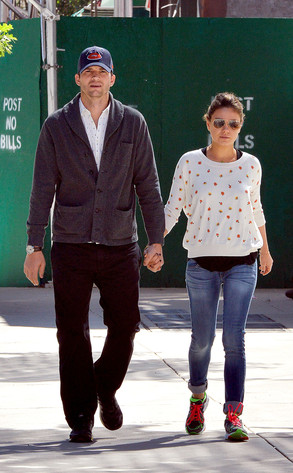 Curtis Means/ACE/INFphoto.com
Laura Prepon "wasn't surprised" when her former That '70s Show costars Mila Kunis and Ashton Kutcher began dating in early 2012. In fact, the Orange Is the New Black star told Us Weekly over the weekend that it's "incredible" to see them together.
The star also confirmed that Kutcher was Kunis' first kiss. "He was, he was," Prepon said of the couple, whose characters also romanced each other on the FOX comedy that aired for eight seasons from 1998 to 2006.
Kunis, now 30, had only briefly met Kutcher when she was told she'd have to kiss him on camera. "I was like, 'Oh, he's so cute, it's the Calvin Klein model!'" she recalled in a 2001 interview with People. "Then I was like, 'I have to kiss him?' I was so nervous and uncomfortable. I had the biggest crush on him."