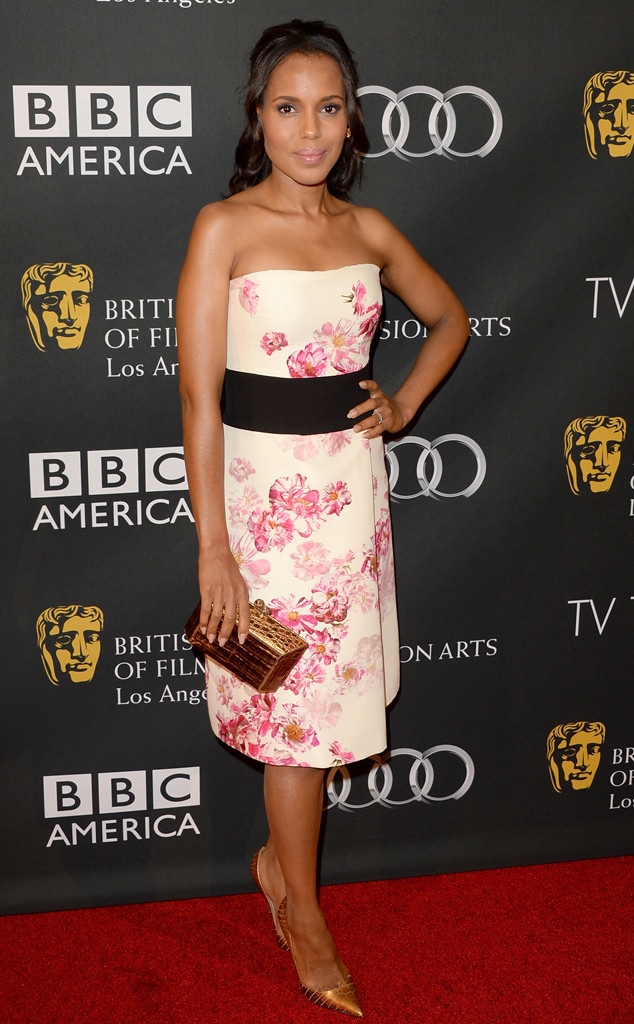 Jason Merritt/Getty Images
Kerry Washington may be keeping her dress for the Emmys under wraps until she hits the red carpet tomorrow, but she is dishing on getting ready for the big day.
"I'm going to try to sleep well and get up early and work out and then have a really good time with my hair and makeup people," the Scandal star told me earlier today at the BAFTA Los Angeles TV Tea Party at the SLS Hotel.
"We've got cookies, we've got wine," she said. "We're going to have a good time [and] good music."
Not only is Washington up for an Emmy, but she'll also be presenting at the show with Diahann Carroll, the only other black woman to star in a major television network TV series about 40 years ago.
"I have this voicemail message on my phone from Diahann Carroll calling to tell what she's wearing," Washington beamed. "I will never erase it. I will have it forever…She wanted me to be able to coordinate. I'll have it forever."
No word yet if the very private Washington will be bringing along her husband of three months, football star Nnamdi Asomugha.
The two secretly married in June in Idaho.
"I did know she was dating," Washington's Scandal costar Dan Bucatinsky told E! News about two months after they got hitched. "I didn't know that they were going to get married, but all of us sort of hoped. We wish her the best always. She did it in the perfect way."
Watch:
Kerry Washington Excited for Emmys