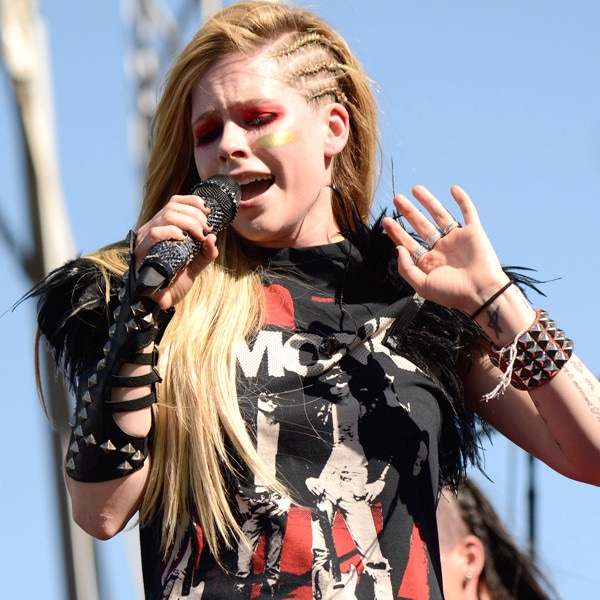 Kevin Mazur/Getty Images for Clear Channel
Avril Lavigne graced fans with a performance at the iHeart Radio Music Festival today, but not before she caught up with E! News prior to hitting the stage.
The "Rock n Roll" singer, who married Nickelback's Chad Krueger back in July, revealed that married life is going "really, really well." 
"I love it and we are really happy. He travels a lot and I travel a lot so we just try our best to be together and support each other," she tells E!
She also had some nuptial deets to share!
"I went for a black wedding dress by Monique [Lhuillier]. She was awesome when I met her, she was really sweet. I found a dress and she made it for me in black and tailored it to me. I had black nails. The wedding was at a castle in the South of France and we stayed up till 6 in the morning."
The rocker, who was previously married to musician Deryck Whibley, added: "It's nice being with another musician and I was not planning on being with another musician. But it's cool cause he really understands what I do."
And another artist who understands what Avril does is rapper Drake.
Avril shares a bit of what it's like being a fan in Las Vegas for the festival: "The best part was I was watching Katy Perry last night and Drake was there watching. He was so excited to meet me. He said, 'I listened to you growing up.' And I go, 'Oh my god! How old are you?' He goes, 'Twenty six. You hold a very special place in my heart.'"
Another artist Avril has love for is Miley Cyrus, who performed before Avril at the music festival. When asked how Avril felt about the 20-year-old's irreverent MTV Video Music Award performance, she shared: "It's actually really funny cause my managers also manager her. She is doing her thing right now and she is kicking ass, so good for her."
And once Avril leaves Sin City, she's set to celebrate her 28th birthday. So what's the "Here's To Never Growing Up" singer have planned for the big day?
"My husband is in South America for the Rock in Rio [festival] with Nickelback and is flying back to L.A. to meet me for my birthday. He gets in the morning of my birthday. We are going to be together. That's all I want for my birthday, I am really excited!"
Too cute! Happy early birthday, Avril!
—Reporting by Jennifer Cooper