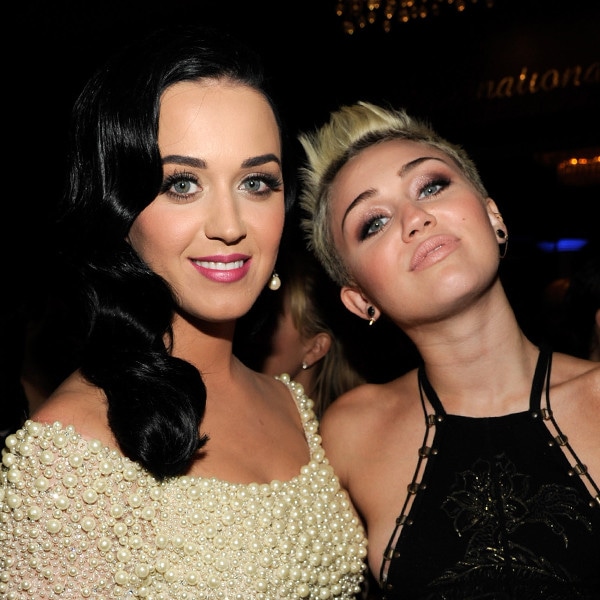 Kevin Mazur/WireImage
Katy Perry and Juicy J are singing Miley Cyrus's praises. 
The "Roar" singer and Cyrus's "23" counterpart talked to E! News exclusively at the iHeart Radio Music Festival in Las Vegas about the starlet's talents, giving her props for her "incredible" singing voice and work ethic.
When we asked Perry if she would ever think about collaborating with the "Wrecking Ball" crooner she said, "I don't know…maybe…she's got an incredible voice."
"I have heard her sing 'Wrecking Ball' before that single came out and I tweeted about it a long time ago before it even came out and I was just sooo excited about it for her," she continued. "She's got a set of pipes that are incredible." 
Meanwhile, Juicy J, who teamed up with Cyrus and Wiz Khalifa for "23," said he's still in disbelief that he got the opportunity to work with her.
"I never thought I would collaborate with Miley Cyrus, but I am so glad it happened," Juicy said. "It's like not even real to me! I have to pinch myself. It's almost like a dream come true 'cause she is super talented. We made a lot of great records together."
J. Cole also gave his take on Miley's talents saying he thought her previous duet in 2010 with Dolly Parton was "amazing" and he would jump on a song with her if the right one came along.
"I saw her sing on stage with Dolly Parton and I thought it was pretty amazing," the "Crooked Smile" rapper said. "She is talented actually I think beyond all the extra publicity."
Larry Busacca/Getty Images for NARAS
"She comes from a musical family, so I don't know…if it's dope, if its ill, then yes I would love to work with her, but if its some fabricated type of thing no. I would not do it for the publicity. If Miley Cyrus bought me a record like Joleen from Dolly Parton then I would definitely hop on it."
Would you love to hear a Miley Cyrus-Katy Perry collaboration? What about Miley and J. Cole? 
Sound off in the comments!