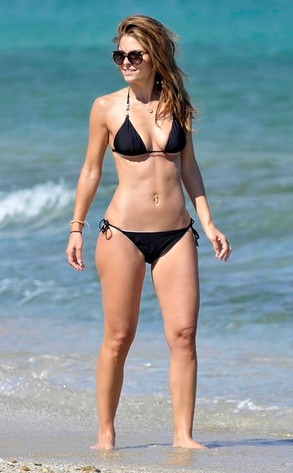 RAMEY PHOTO
Good news, ladies: Maria Menounos' secret to staying slim doesn't come with a pricey gym membership.
"My secret is always be moving, that's it," the 35-year-old beauty told E! News at People Style Watch's "Hollywood Denim Party" presented by Gilt.com at the Palihouse in West Hollywood last night.
"I'm definitely someone who's always running around, taking the stairs," she continued. "Like today, we were at the Universal theme park and there was this enormous, endless set of stars to get to the top of the mountain, and I'm like 'Let's take the stars instead of the escalator,' running up full speed, and I wear one of those things that calculates how many steps you take, so my goal is 10,000 steps a day."
Menounos is firm believer in her always-keep-moving-method when it comes to maintaining her weight.