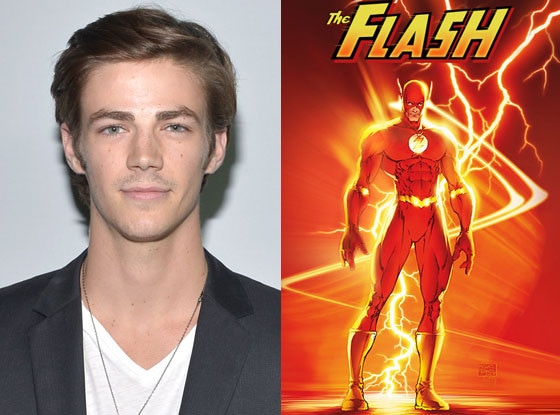 Charley Gallay/WireImage, Marvel
It's pretty safe to assume that if you're playing The Flash, the best preparation you can do for the role is run. Fast. So that's what Grant Gustin, who just landed the part on the CW's Arrow, is doing. 
"I'm kind of running around a little bit, but mostly just for fun at this point," Gustin laughed on the red carpet at The Hollywood Reporter's Nominees and TV's New Season pre-Emmys party. "Just because I'm really excited...I'm a little fanboy. I'm so excited to be a part of the show."
Gustin, who previously starred as Sebastian on Glee, told us how he got the part, explaining, "I got an audition and I was really excited and a little skeptical at first, because I'm a comic book fan. I know the character and know I'm a little young."
He said it was a "long audition process" but the moment he found out he got the part made it all worthwhile: "I was at the ocean in Malibu with a buddy of mine," he recalled. "And just had a movie moment and jumped in the ocean afterwards. It was pretty amazing."
The Flash, aka Barry Allen, will appear in three episodes of the upcoming Arrow season, with the last acting as a backdoor pilot to a potential The Flash spinoff. 
But Grant doesn't know too much about The Flash of the small screen just yet: "I know I'm coming on as up-and-coming in my field," he said of the assistant forensics scientist. "He's not going to be The Flash immediately, obviously."
He continued, "We're going to be Barry Allen first in two episodes and then he'll come back later as The Flash. I haven't actually had a chance to read any scripts yet, so we'll see." That doesn't mean he doesn't have ideas of what he'd like to see happen.
"I didn't realize before I started doing all my research that he can actually time travel, he can run so fast," Gustin explained, noting that he's been reading a lot of comics by Geoff Johns, who writes the DC comics and is also a writer for Arrow. "I think that'd be a really fun thing to play with on the show is him kind of going to different times and experimenting with that. That'd be fun." 
As for his costume? Expect The Flash's signature red spandex. "I would image, when The Flash comes he'll be in a pretty traditional Flash costume," Gustin teases. "That's kind of what I've caught wind of." 
Though it might not be as sexy as the suit some fans are dreaming of. We asked him if he's seen any of the fan art that's popped up of him online, including this racy piece by ~zephyrianBoom (check out her deviantArt portfolio here).
"Oh, the one that's like open?!" he laughed. "Yeah, I sent that to my mom actually. We just died laughing. She thought it was hilarious."