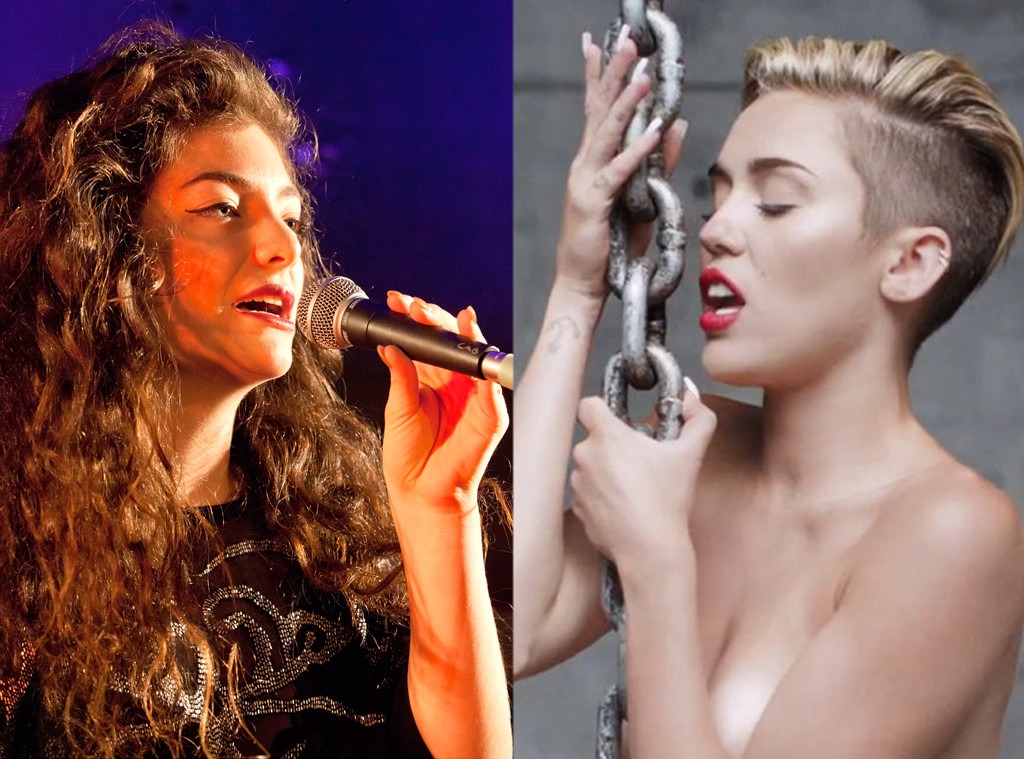 Vevo, Frank Hoensch/Redferns via Getty Images
Miley Cyrus may be duking it out with Lorde on the iTunes charts, but it's the pop star's fans who took the battle to Twitter. After Cyrus' "Wrecking Ball" was knocked out of the top spot by Lorde's "Royals" on Thursday, Sept. 19, the former Hannah Montana star's fans waged war on the New Zealander.
"Kill yourself you crusty old hag," one user told Lorde. Another added, "Your eyes are too far apart."
Lorde, 16, was the first to admit that the tweets were a little alarming. "wo #1 on US itunes. even if it lasts an hour i feel HAPPY," she wrote. "downside is all these miley fans telling me they're gonna stab my rotting corpse." Ironically, just last month, Lorde praised Cyrus' second single from Bangerz, writing, "new miley is SO on point with verse and pre-chorus melodies."
Cyrus, 20, addressed her fans' behavior on Sept. 19 by tweeting at Lorde directly. "why r people so mean???" she asked. "Ps your music is awesome."
She's not the only one who thinks so: Lena Dunham praised the pop star on Monday, Sept. 16, tweeting, "Wait, Lorde is 16!? She MAY still be a royal! IT'S IMPOSSIBLE TO KNOW AT THAT AGE."
Lorde asked the Girls star if she was being mean, to which Dunham replied, "Not at ALL. I'm massively impressed by you and what you do and when I found out how old you are I almost fell over. Brava!"