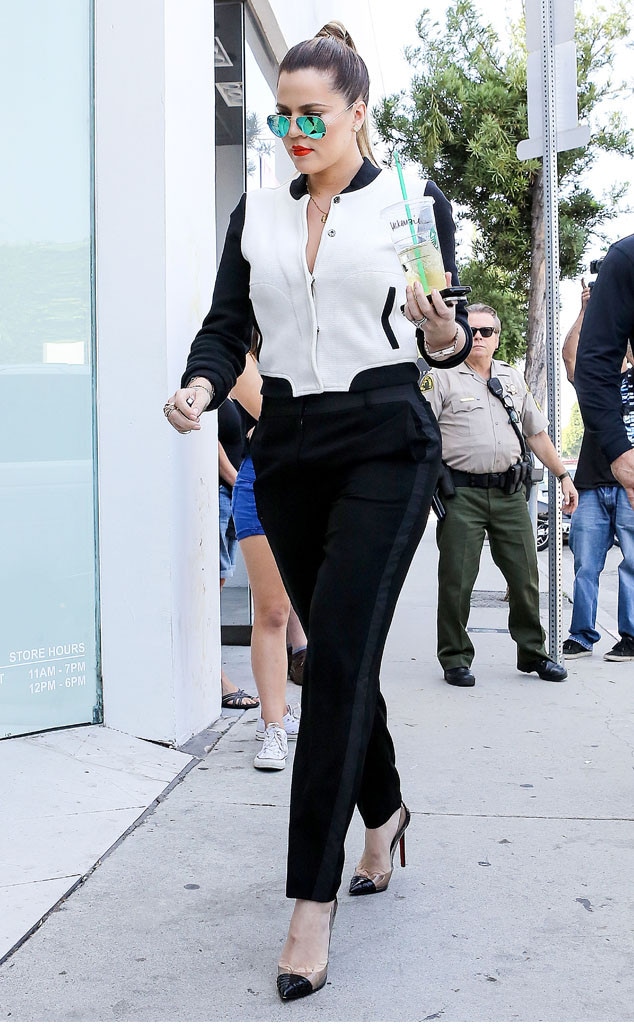 SPOT/AKM-GSI
Despite all the drama surrounding her hubby Lamar Odom, Khloé Kardashian Odom is still proudly wearing her wedding ring while getting on with her life.
The 29-year-old E! star stepped out sporting the giant bling while filming scenes for Keeping Up With the Kardashians in West Hollywood today.
Khloé arrived at their Dash clothing store looking fashionable in heels, sleek black pants and black and white coat. She completed her look with aviator sunglasses and a bright red lip with her hair up in a high bun.
Carrying her phone and a Starbucks drink, Khloé looked calm while strutting pasts swarms of paparazzi and fans who were waiting for her outside the store.
Earlier today, a source told E! News exclusively of all the Lamar drama, "She is still obviously very upset, but life is starting to move on for her and for the rest of the family. No more interventions, no more trying to save him."
Despite Lamar's recent DUI bust following problems with substance abuse and signs that the couple are headed for divorce, Khloé has maintained a somewhat happy appearance by posting lots of message on social media. "Always remember how much I love you! I'm forever grateful for your love and support!!!!" she posted on Twitter this week.
She's been keeping busy, stepping out repeatedly with family members. Khloé also seemed upbeat and cheerful in a recent video of her, Kim Kardashian, Kourtney Kardashian and Scott Disick all singing a Drake song together while in a car.
However, earlier today she posted a pic of a masked girl with text that read, "She smiles to mask the pain in her heart. She laughs to conceal the tears in her eyes."
"Her family is being as supportive as possible," an insider told E! News earlier this month of the situation. "They don't want to argue with her or make her even more upset. They know she's already heartbroken. They don't want to make things harder on her."
Whatever is to come, it's nice to see Khloé staying strong.