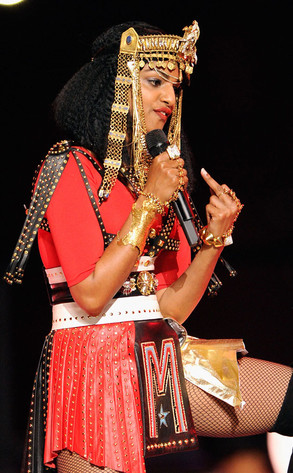 Kevin Mazur/WireImage
Remember MIA's infamous Super Bowl bird flip? Well, a year and a half on, we're now learning it's landed her in a legal fight.
According to The Hollywood Reporter, since making headlines for all the wrong reasons during Madonna's Halftime Show at Super Bowl XLVI on Feb. 5, 2012, the English-Sri Lankan artist is on the receiving end of an effort by the NFL to make her pay for her offensive gesture.
Documents filed with the American Arbitration Association on March 13, 2012 and obtained by the trade reveal the league is demanding a payment of $1.5 million, claiming the act allegedly breached M.I.A.'s performance contract and harmed the NFL's reputation.
Per the arbitration complaint, the league suggested the gesture was not a spontaneous expression but rather a "blatant, intentional and calculated attempt by M.I.A….to garner worldwide publicity and attention for herself."