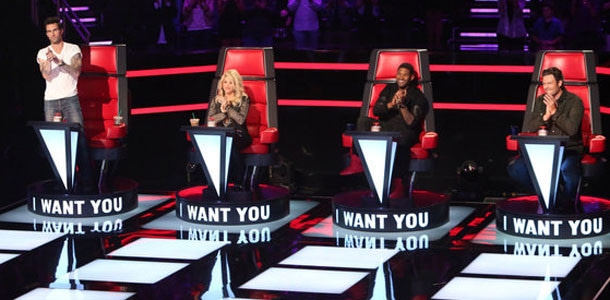 Adam Taylor/NBC
Jon Stewart and Phil Keogan must have some seriously scandalous photos of Emmy voters in their teeny-weeny skvvies or something. How else would you explain that in the past 10 years, The Amazing Race and The Daily Show have completely owned their categories, with Amazing Race only losing once, in 2010, and The Daily Show never losing?
Oh, you think it's because these shows are incredibly well-produced, wholly entertaining, brilliant television? Well…fair point. And completely true. And all (lame) kidding aside, it is hard to consider any other series knocking TAR and the TDS out of their long-running victory spree for that very reason. That said, here are our (totally predictable) predictions for Outstanding Reality Competition Series and Outstanding Variety Series:
REALITY COMPETITION SERIES
The Amazing Race (CBS)
Dancing with the Stars (ABC)
Project Runway (Lifetime)
So You Think You Can Dance (Fox)
Top Chef (Bravo)
The Voice (NBC)
SHOULD WIN: The Voice. NBC has turned what could have been a gimmicky (red swivel chairs!) cheesefest into the best-produced singing competition on the air. The coaches have fantastic chemistry, the battle rounds are gripping, and the show finds truly remarkable (albeit perhaps not totally marketable) talent. We would love for a newcomer to finally knock TAR out of the running. It's a truly great show, but aren't nine trophies enough?
WILL WIN: The Amazing Race. So You Think You Can Dance has been trying to beat CBS' Emmy heavyweight for nine years, Project Runway for eight years and Dancing With the Stars for three years, so chances are that the The Voice won't be able to do it either, and The Amazing Race will add another trophy to its very heavy mantel.
VARIETY SERIES
The Colbert Report (Comedy Central)
The Daily Show with Jon Stewart (Comedy Central)
Jimmy Kimmel Live! (ABC)
Late Night with Jimmy Fallon (NBC)
Real Time with Bill Maher (HBO)
Saturday Night Live (NBC)
SHOULD WIN: The Daily Show. Not only is Jon Stewart pulling in better ratings on Comedy Central than some of the late-night shows on network TV, he has managed to keep his material edgy, thought-provoking and hilarious.
WILL WIN: The Daily Show. The show has won every year for the past 10 years, even when the episodes submitted weren't necessarily all that well done. And this year, the submitted episode, in which Stewart has a field day over Clint Eastwood talking to an empty chair at the GOP convention is a slam dunk. Start making space on that mantel now, Jon!
Make sure to check out E!'s live Emmy coverage this Sunday, including our Countdown Show and Live from the Red Carpet beginning at 5pm ET/2 pm PT; our After Party at 11 pm ET/8 pm PT, and our Livestream on E! Online, at 6 pm ET/3 pm PT!