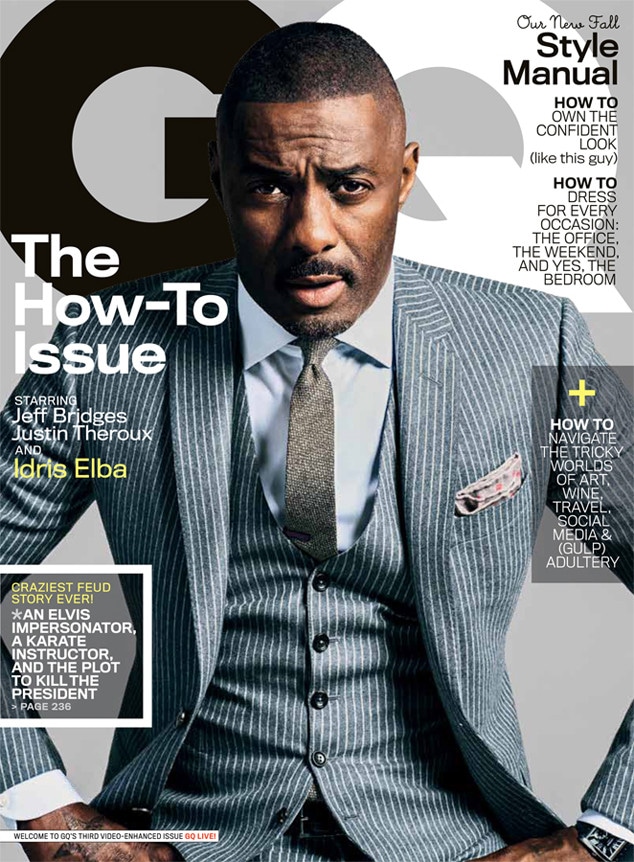 Sebastian Kim / GQ
Idris Elba is gracing the cover of this month's GQ, and he is looking all kinds of good.
But aside from the eye candy, the usually-private star spoke about a rather painful part of his past. The Wire actor revealed to the men's magazine how he dealt with finding out that he was not the father of a boy that he thought was his own child.
In 2010, Elba had gone public to reporters during a press conference for a film called The Losers that he was the proud father of a little baby boy, his second child.
In fact, in an interview with The New York Times, Elba had addressed the boy by name when gushing about him.
Joe Kohen/Getty Images for Y-3
However, when Essence magazine later asked him about how his eldest child, a daughter, felt about being a big sister, Elba explained, "I only have a daughter."
Elba shared with the mag that when the woman he was dating at the time had a boy, it was one of the happiest times in his life.
"The celebration of having a son—from a man's perspective, it's massive."
But the joy was short-lived. People close to the Brit told him that something was amiss, and that the child may not have been his.
"It wasn't immediately obvious—well, it was, because he didn't look like me," he said. "But it wasn't immediately obvious what had gone down."
Elba decided to take a paternity test to find out if the rumors were true. The test determined that the child he thought was his own, wasn't his.
"To be given that and then have it taken away so harshly," he recalled, "was like taking a full-on punch in the face: POW."
Elba added, "You know, the truth is—like, even admitting it, I'll probably get laughed at for the rest of my life. But it is just tragic, and it happened."
The actor continued, "But I wasn't knocked out. I stood right the f--k back up, and I ain't aiming to take another punch in the face ever again. Do you understand what I'm saying? It happened to me. I moved on."